Concept: Sponsor a national contest to build a network of KeVita Alive Like You Ambassadors
Objective: Drive brand loyalty and collect high-quality UGC that can be used in KeVita marketing and advertising
Digital Campaign Index (DCI) Score: In Progress
Use Cases: Social Map and Social Content Stream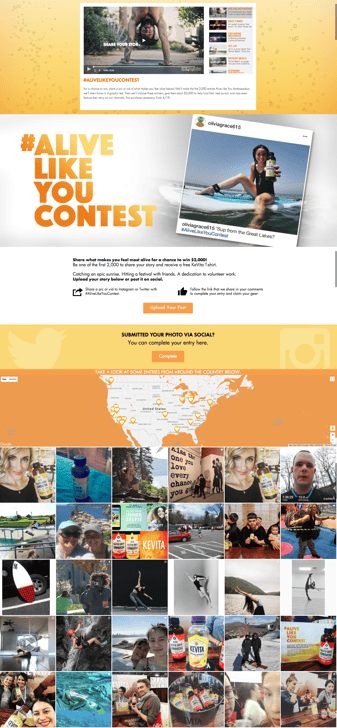 Probiotic drinks brand KeVita launched a new campaign that draws inspiration from the science behind their products – which all contain live active cultures – to celebrate and promote their fans that are seizing every day and are as alive as the live ingredients in KeVita's probiotic drinks.
To complement their integrated marketing and advertising campaigns, KeVita launched their #AliveLikeYouContest. This promotion aims to engage and inspire KeVita's fans to share their own stories on what makes them feel alive via pictures or video. As incentive, KeVita is going to make the first 2,000 entries Alive Like You Ambassadors and three grand-prize winners will each be awarded $2,000 to help fund their next pursuit and a shot at 15 seconds of online fame on KeVita's channels.
Fans can enter the contest by posting their submissions to Instagram or Twitter using the hashtag #AliveLikeYouContest, all entries received through Twitter or Instagram are being aggregated and added to KeVita's social wall for website visitors to browse and be inspired by, along with photos and videos directly uploaded using their Photo and Video Lab. Website visitors also have the ability to view an interactive map displaying content uploaded from across the United States pinpointed to specific cities and regions.
KeVita's social campaign is a smart extension of their larger advertising and marketing campaigns aimed at highlighting real people sharing their stories of what it means to feel alive. Check out their campaign landing page here.
DCI Score Overview: In Progress
KeVita's DCI score will be a combination of an Engagement Score (ES) and Virality Score (VS). As the campaign continues to run and collect entries and site visits, we are sure they will end up with a noteworthy final DCI score.
Check out more details below on best practices you can incorporate into your digital campaigns to increase Engagement and Virality Scores.
Engagement Score (ES)
Build out a loyal squad. KeVita decided to come out of the gate swinging by offering the first 2000 entrants in their contest the status of Alive Like You Ambassadors. It is a smart and bold move to encourage entries, but also set the stage for continued brand engagement after the contest ends.
Add an interactive social map. KeVita added an interactive social map that displayed pins and social entries from across the country. Adding a visual map that displays the breadth of your contests entries is a great way to encourage engagement through more campaign clicks and views.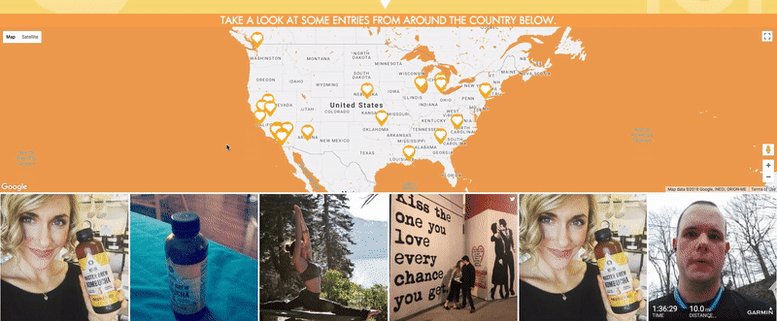 Virality Score (VS)
Combine photo and video. The popularity of video continues to rise and it is gradually becoming expected that digital campaigns feature some form of video content, whether as part of their UGC submissions or campaign landing pages. Until video completely takes over, it is a smart choice to include both photo and video to ensure your campaign is optimized to capture all submissions, especially if entries are being shared and collected using a hashtag on Twitter or Instagram.
So, if you are feeling alive and haven't checked out KeVita's campaign yet, you can view their interactive media wall and social map here.