American Independence Day will be here before we know it, and brand marketers have big plans. July 4th spending is continuing to rise with the average American spending approx. $300. Marketers across every industry can take advantage of the spending bump with creative, seasonal campaigns.
So how do you launch a campaign that takes off like a Roman candle? Get inspiration from these marketing ideas.
1. Run a Facebook photo contest
that prompts fans to submit their favorite July 4th memories. Offer brand-related prizes to the fans with the most votes. Fans will ask friends to vote for their entries, prompting a flurry of shares and potential new customers.
2. Honor the occasion with a patriotic photo contest
Ask fans to share how they show their American pride in exchange for several great prizes. Include an entry form as part of the campaign, and capture valuable data.
3. Create a photo gallery on your website
that features fans in their favorite summer getaway looks. Promote it across all your marketing channels, prompting fans to get inspiration for their beach outings and parties. Use the user generated content to drive traffic to relevant product pages and ultimately convert customers.
4. Spread the word about your deals and promotions
July 4th is huge for retail sales events, which means you've got a lot of competition for those consumer dollars. These techniques can help your coupons and promotions go viral.
5. Create a social media campaign around a special offer
Like 25% off all items on your site, or even just feature different products each day. Using a "pop and unlock" countdown calendar, give followers the chance to unlock a discount if a certain number of them retweet the offer. Promote the contest via a dedicated email to your customer base. You'll see your discount reach many new customers, fast!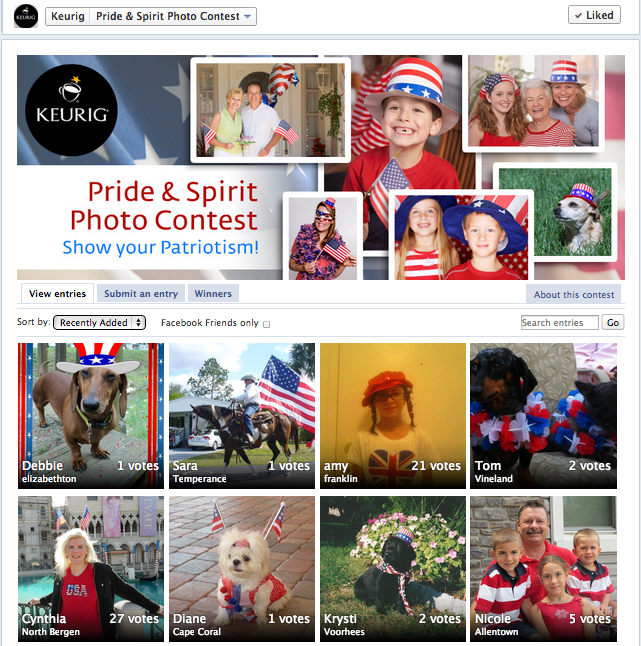 6. Choose a holiday hashtag
...which you promote across all of your marketing channels and through in-store promotions. This can be the same, or a slight variation of, your evergreen hashtag. You will want to choose something that is unique, but still natural for your consumers to use. Prompt fans to share photos, videos and stories. Set up an automatic response to posts, and potentially include a coupon code they can redeem on your site or in-store.
7. Curate social collections of your July 4th sales items
...(or all the red, white and blue items from your site). Create a themed content gallery, or likewise collection on social media platforms. Social collections are not only highly shareable, they're also super easy to set up. Make sure to link back to relevant items to drive commerce.
8. Put the focus on fun consumer experiences.
Content marketing has never been hotter. Brands that surprise, delight, and educate their consumers score brand buzz and deepen loyalty.
9. Run a themed quiz on your website.
Ask consumers to answer American history trivia, or vote on their favorite July 4th movie moments. Produce fun, shareable content you target audience will love.
10. Add value to your customer's day.
Curate a collection of your favorite summer cocktail recipes on social. Create an interactive map of your staff's favorite travel destinations. Put your web design team to work on an Uncle Sam "video" game. Hey -- plenty of people value video games!
Remember, many consumers will be traveling this July 4th. Make sure your digital campaigns are mobile-optimized and designed for easy engagement.
Interested in more? Get in touch with on of our experts!