Concept: Launch a countdown calendar to get Kinky Boots fans excited during the holiday season with exclusive giveaways
Objective: Drive retargetable traffic to website and reward loyal Kinky Boots and Broadway to encourage ticket sales
Digital Campaign Index (DCI) Score: 145
Use Case: Countdown Calendar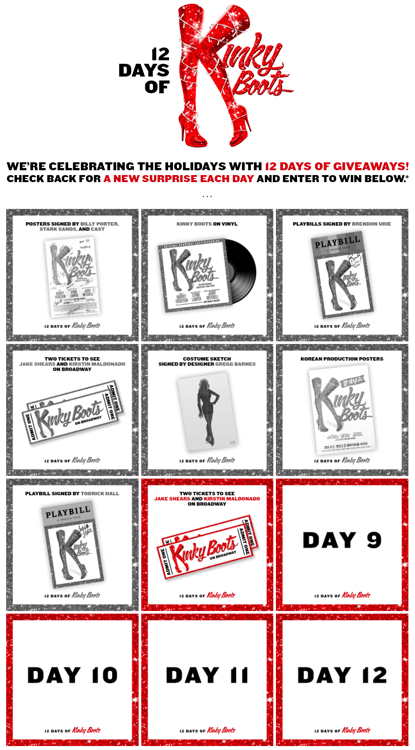 After sweeping the 2013 Tony Awards, Kinky Boots has proven it has lasting power on Broadway – and the hype and excitement around the show does not seem to be slowing down in 2017. The high-kicking Kinky Boots tells the endearing story of Charlie Price, who has suddenly inherited his father's shoe factory, which is on the verge of bankruptcy. Trying to live up to his father's legacy and save his family business, Charlie finds inspiration in Lola. A fabulous drag queen and entertainer in need of some sturdy stilettos, Lola turns out to be the one person who can help Charlie become the man he's meant to be.
Since premiering in 2013 and walking away with six Tony Awards including Best Musical, and Grammy winner Cyndi Lauper has made history with Kinky Boots as the first solo woman ever to receive the Tony Award for Best Score, the show has amassed an ardent fan base, and loyal social following. To celebrate the show's success and reward their fans, Kinky Boots launched the "12 Days of Kinky Boots" Countdown Calendar campaign to give their fans the chance to win exclusive prizes and experiences during the holiday season.
With a DCI score of 145, Kinky Boots' "12 Days of Kinky Boots" deserves a standing ovation for their smart use of the Countdown Calendar use case to drive retargetable website traffic and boost fan engagement.
DCI Score Overview: 145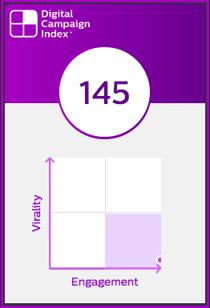 Kinky Boots' DCI score is a combination of an Engagement Score (ES) of 275 and Virality Score (VS) of <25, and is a great example of a high performing campaign optimized to encourage engagement and repeat website traffic.
Check out more details below on how you can optimize your campaigns for engagement and virality.
Engagement Score (ES): 275
Add a Countdown Calendar. Kinky Boots and their agency SpotCo increased the likelihood that consumers would continue to come back and visit their campaign page by incorporating a Countdown Calendar that released exclusive deals and new content over the course of 12 days leading up to Christmas. Spreading out the release of content and prizes encourages consumers to check back, click on the new giveaways and revisit older reveals.
Offer your fans heel kicking prizes. The competition for attracting and then keeping your audience's attention is stiff, like open casting call stiff. Offer a prize can be a great way to engage your consumers, but the prize should also be relevant and something that will get your consumers excited. Kinky Boots has a deep understanding of what their fans love and they tailored the giveaways for their campaign to match what a Broadway fan wants from tickets to exclusive show swag.
Cast your campaign in the starring role. Your social and advertising activities should all lead to one central experience for your consumers to engage with. Today's marketers recognize the need to constantly build and nurture their audiences and many are doing so by driving audiences downstream to immersive digital campaigns. Kinky Boots made the great choice of casting their Countdown Calendar in the leading role, with all other marketing activities playing a critical, but supporting role.
Virality Score (VS): <25
Socialize your campaign. To get people excited for their "12 Days of Kinky Boots" campaign, the Kinky Boots team invested considerable resources in promoting their campaign across their social media channels, encouraging people to visit and enter the giveaway.
Tap into some star power. The Kinky Boots team are savvy digital marketers and understand the power of Influencers are the new celebrities. To drum up hype for their campaign they tapped into Kinky Boots' star power, by recruiting previous and current talent including Billy Porter, Todrick Hall, Brendon Urie (of Panic! At the Disco), Jake Shears (of Scissor Sisters) and Kristin Maldonado (of Pentatonix) to help promote the giveaways across their social channels.
The Kinky Boots team's primary objective for this campaign was to drive engagement, and they did just that! This campaign is optimized to guide consumers to the campaign website and keep them engaged once there. If Tony Awards were given for exceptional campaign execution, the Kinky Boots team would be walking away with their 7th award for their "12 Days of Kinky Boots" campaign.
To learn more about Kinky Boots and view their "12 Days of Kinky Boots" Countdown Calendar, visit their campaign here.