In the last two months of 2022 we released a flurry of updates and new features for our product. We have a vision to build the best tools for privacy-first personalization, and that is a big task. Our Product team has been working hard to make updates and build new capabilities, and our Services has also created some incredible experiences for our customers that you should ask us more about, including Sweepstakes, Gamified Promotions, Next Best Questions, Guided Quizzes, and much more.

Here are some of the highlights of our product releases in November and December. For the full Release Notes you can always go here.

Experiences Updates
Custom Component Library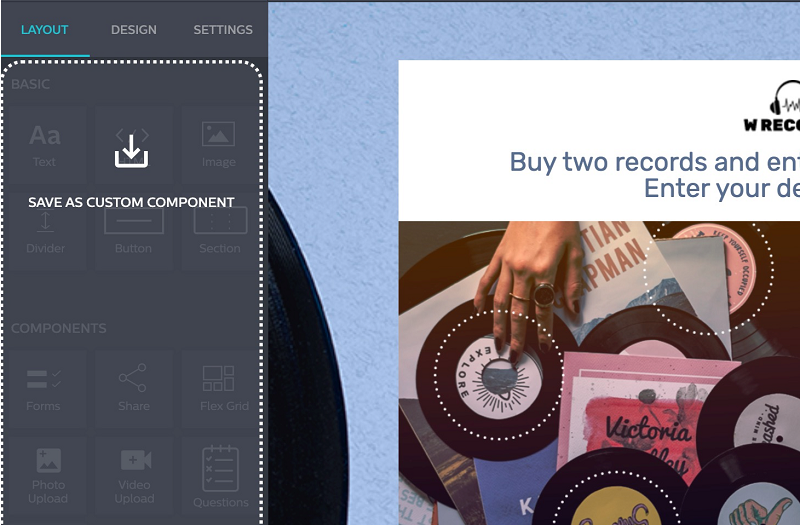 Add a finished microexperience to the library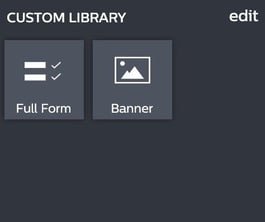 Accessing the Component Library
Users can now easily reuse customized components from any experience, using the new Component Library. While editing an experience, users can access the library on the left hand panel, below the standard palette of components. Users can drag-and-drop customized components from any experience into the library, to save them for reuse. Custom components can then be added to any new experiences by drag-and-drop from the library. Any user can reuse components from the library, but only admins can add, rename, or delete components.
Questions component answer selections are more obvious
When completing a visual questionnaire, the styling of answers currently selected has been changed slightly, so they stand out more and are easier for users to see.
<iframe> embeds now work in incognito mode on Chrome
Due to changes in default browser security policy on Chrome, Wyng experiences embedded using <iframes> on web pages have not been loading when browsing in incognito mode. This has been fixed. However, for the best customer experience, Wyng's recommended practice is to use the JavaScript option when embedding Wyng experiences on web pages.
SDK: Rewards trigger events
For custom programming around coupon and instant win campaigns, new events are triggered when codes are allocated to a participant, or if the participant is not eligible to receive a code for any reason. To learn more, check out the reward_code_issued and reward_code_not_issued events at Wyng JS API Documentation.
SDK: Improved custom events for form submissions
For triggering custom code as users flow through a form submission process, there are some changes to the Wyng JS SDK:
form_submit_button_clicked

has been added: this is generated when a user clicks a form submit button. Callbacks that are registered to this event will be invoked after the submit button was clicked but before the actual submission calls happened. Event will be emitted regardless of the validation status of the form. If you need to target an event after front-end validation has happened refer to

form_pre_submission

.

form_pre_submission

has been added: this is generated after a user clicks a form submit button and all pre-submission validation steps complete successfully. Callbacks that are registered to this event will be invoked after the submit button was clicked, and after any enabled pre-submission validation steps (front-end field validation, captcha solving, identity verification…), but just before the API calls to transfer and process the submission data.
The legacy

form_submit_clicked

event has been deprecated.

form_pre_submission

has compatible behavior and may be used in its place.
These events work together with existing SDK events, form_field_changed, form_submit_success, and form_submit_error, to flexibly trigger custom code during form submissions.

To learn more, see the Wyng JS SDK documentation.
Privacy policy can be easily synced with default privacy policy
Clients using the Mandatory property-level Privacy Policy links feature can now easily see when the privacy policy for an experience is out of sync with the default, and sync it with a click.
Integrations:
Mandatory integration policy now supports multiple forms per experience
Clients can enable a property-level policy that requires integrations to be enabled on all forms in an experience before it can be published. If any forms do not have an associated integration, a notification is displayed, listing the forms missing an integration. Users can opt to acknowledge and proceed, if they do not want to integrate data from a particular form. Previously, this policy was only effective for experiences with a single form.
New Braze connector
Customers using Braze, a customer engagement platform, can now flow data from any Wyng experiences to Braze. To try the new connector, go to the Integrations tab (More > Integrations) and click on Add, to see the Braze connector and other available connectors. For more information check our documentation for the Braze Integration documentation.
Early access program for new Oracle Eloqua connector
Customers using Oracle Eloqua, a business-to-business marketing automation platform, who are interested in integrating data from Wyng experiences to Eloqua, can get early access to our new connector. To learn more about the early access program and how to participate, reach out to your account manager or Wyng support.
Bugs fixed
"Once per form" submission limits now work correctly for multi-page experiences;
Validation errors on Calendar Date fields are now visible to users.
styling issues with Calendar Date fields in forms,
styling issues with the Photo Upload component, and
disallowing copy of old campaign types that no longer are supported.
Thanks for reading, and stay tuned as we plan to increase the pace of product updates in 2022!


For the full Release Notes you can always go

here