Advertising Week is an annual event hosted by AdWeek, featuring over 200 conference sessions and events during the week. Trying to distill all of that content into a few neat little categories is a tricky task, but over the course of the week we noticed some recurring themes.
Here, in no particular order, are five lessons I walked away with from Advertising Week that will be of importance for marketing professionals looking ahead to 2018:
Start with the idea; not the channel
A constant theme throughout all events was the importance of creativity. Creativity is what makes agencies important and valuable in an age where the sheer volume of channels can be deafening. While it's imperative to look at metrics to judge success - creatives need to be given the power to start with a concept and develop a channel strategy from there.
#FearlessGirl slays
The story on everyone's minds was #FearlessGirl. The bronze statue erected by McCann on behalf of State Street Global Advisors stares down the iconic 'Charging Bull' and challenges the financial industry to embolden women. #FearlessGirl is a symbol of hope and change -- and is built out of bronze, a medium that's over 4,000 years old. Lizzie Wilson and Tali Gumbiner started with a basic concept (SSGA's commitment to gender diversity in its portfolio).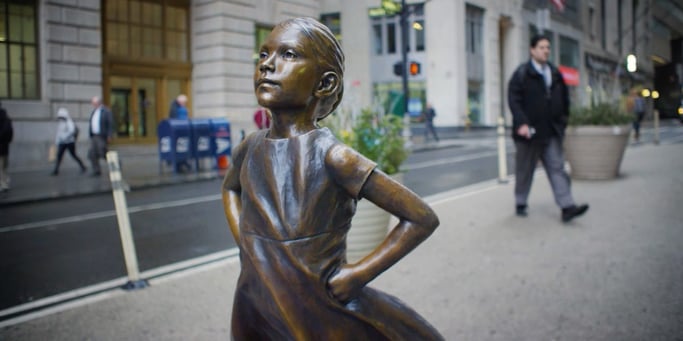 From there, they came up with a real-life installation that garnered over 1 billion Twitter impressions in the first 24 hours. The success of #FearlessGirl is evidence of the above – develop an idea and concept that will resonate, then pull together your digital strategies.
The importance of diversity and inclusion cannot be overstated – they are more than buzzwords
Throughout almost all sessions at the 4A's Centennial Stage, one thing was glaringly clear - diversity and inclusion need to be at the forefront of both an agency's work as well as the agency itself. Agencies have the incredible ability to affect change through advertising (like the work from Badger & Winters around #WomenNotObjects). Just as importantly, agencies are proven to be more successful when their work reflects the diversity of our world. It is an undeniable fact that agencies must reflect the global audience that they are speaking to for this to happen. Brands are starting to demand more action on diversity and gender equality and the pushing agencies to have real conversations around enacting real change. While nearly no agencies are there yet, it's being talked about and approached in a real way which gets us lightyears ahead of many other industries. #ItsAStart
Collecting data and metrics isn't an issue, the issue is what to do with it.
A common area of concern that was discussed across a variety of small speaker sessions and larger panels was the issue of what to do with the mountains of 'good' data that marketers now have access to. Marketers no longer have any issues collecting metrics and data, instead they are tasked with deciding what counts as good and then figuring out how to apply those findings strategically. It can be a time consuming and frustrating task.
We noticed a similar challenge here at Wyng; the digital campaigns our customers were running collected mountains of valuable data, but all the data points were disjointed, making it difficult to apply learnings to an overall marketing strategy. So, we crunched the numbers and developed the Wyng Digital Campaign Index Score, a real-time measurement method that allows marketers to quickly pull out insights from the 'good' data, since our algorithm does all the tedious sorting for them. Learn more about how you can apply your own Digital Campaign Index Score here.
Find your target and speak to them
Joe Alexander (CCO of Martin) told the incredible story of their "World's Biggest Asshole" campaign. The problem was simple - millennial men are not registering as organ donors. Finding a way to communicate to that audience in a fun and refreshing way (with a bit of crude humor) appealed to the audience in a way a traditional PSA never could.
We will be keeping our eyes on all the above and are excited to see how all of these trends play out for brands and agencies in 2018. We've got our popcorn ready -- it will definitely be worth watching.