We are really excited to be discussing the future of personalization and customer data with guest Steph Liu from Forrester next week. We're gonna nerd out about all our favorite topics for 45 minutes; privacy, customer experience, data, and personalization. We would love for you to join us on Thursday at Noon US Easter Time (GMT-5).
But we get it, you're busy. What's in it for you?
1. The impending data crisis will affect you
Major forces across privacy laws, data deprecation, big tech, and consumer expectations that making the data most companies and martech use today disappear like mist on a bright day. And it is happening right now; in 2019, 10% of the world was subject to privacy protections, in 2023 that number will be 65% and growing. By 2023, third party cookies will be phased out of >90% of the world's browsing platforms. It's a tidal wave that affects all data at the most basic level. The Harvard Business Review puts it best in their latest report, The New Rules of Data Privacy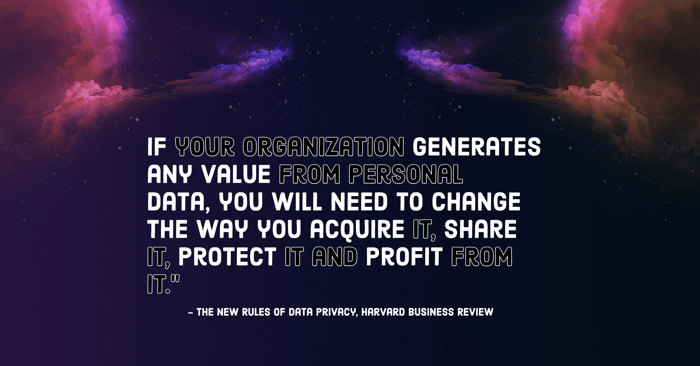 2. Customers expect personalization
At the same time, everyone expects to have personalized experiences. Netflix, Google, Amazon, and major data technology leaders around the world have set the expectations so high based on how they use behavioral data to understand what customers want and then deliver value when and where it makes the most sense. It has happened slowly over the last decade, and it has cost them incredible amounts of scarce resources to do this, but they have shown the way for everyone.
The good news is that you don't need the viewing history of hundreds of millions of people to do this - you can make up a lot of ground by creating experiences where you actually ask people what they want and then respond immediately with valuable information, products, or help.
3. Steph is THE expert
Steph Liu has been working at the intersection of Marketing and Privacy for years, and she helped coin the term "zero-party data" at Forrester back in 2018. When she speaks about what the market and customers are saying, you know it is legitimate because she has been talking to hundreds of brands and thousands of people about this for longer than almost anyone else.
Confused about zero-party data (ZPD)? Check out our blog about it.
4. Get the support you need to change people's minds
Changing the way you and your company think about customer data is a big deal. In order to convince all the people you need to convince across your company in operations (data), digital marketing, customer experience, IT, innovation, and elsewhere, you are going to need a strong story AND some strong data points to back you up.
Steph brings tons of research to the conversation. Wyng will bring some examples of customers that are succeeding today. After this 45 minutes, you will have what you need to motivate your colleagues. And if you don't, you can always ask us more questions or for help!
5. Get started
We are aiming to make this not only informative, but also practical. We are going to take the second half of the presentation and talk about what you need to do today. You don't have to wait until you have everyone convinced, you can start today.
How to approach your current data
How to approach your current data collection practices and tools
How to start experimenting with privacy-first personalization TODAY
If you have any questions - ask them today - or we can follow up with you at any time after the 45-minute webinar is over next Thursday.