As Mariah Carey's "All I Want for Christmas Is You," once again prepares to dominate the radio for another year, marketers are preparing for another holiday season. One that is sure to be exciting, stressful, chaotic, but promising.
This holiday season, online sales are poised to grow in the range of 14% to 18% compared with 2018, according to Deloitte's annual holiday retail projections, a substantial jump compared to sales increasing by 11.2% in 2018. Deloitte expects ecommerce sales to hit $144 billion to $149 billion during the holiday period, up from the $126.4 billion spent online in 2018, according to Deloitte's estimates.
With the 2019 holiday season shaping up to promise more mobile and online shopping, enhanced in-store experiences that merge both digital and live activations and robust online experiences will be a must for any brand hoping to win the holiday shopping blitz.
With digital and mobile playing a key role this holiday shopping season, we've put together a few of our favorite Holiday microexperiences to help inspire you and your teams this holiday shopping season.
Boomerang x Scooby-Doo "Scoobtober" Video Countdown Calendar
To celebrate Halloween, Boomerang created a 13 nights in mystery manor countdown to promote Scooby-Doo and reward fans with a series of spooky surprises. They used their interactive microexperience to drive traffic to their website, collect zero-party data and reward loyal Boomerang and Scooby-Doo fans with exclusive content and rewards.

Libby's "Cansgiving" Sweepstakes
For Libby's, Thanksgiving isn't just about food and family fun, or the official start of the winter holiday shopping season, it's also about giving back. To support Meals on Wheels America, Libby's asked fans to share what they were thankful for this Thanksgiving for the chance to win a $500 prize and a variety of Libby's products as part of their "Cansgiving" Sweepstakes.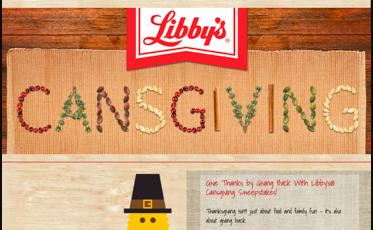 Applegate's "Bacon Spirits Bright" Quiz Sweepstakes
No matter how far ahead marketers start planning, the holiday marketing blitz can still feel like it crept up out of nowhere. To get a jump start on the holiday shopping season, Applegate launched a timely seasonally themed quiz sweepstakes, with equally seasonal rewards that consumers could win, to drive online interaction by surprising and delighting fans, all while collecting valuable zero party data to understand their audiences product preferences.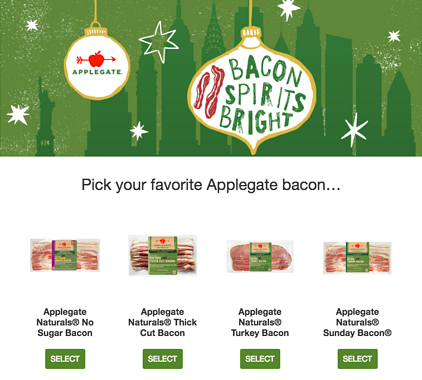 Circulon's #SeasonedCelebrations Sweepstakes
Circulon asked their fans to stock up on all their gourmet needs this holiday season, starting with the chance to win some free Circulon cookware to start the season off with a bang. Circulon used their sweepstakes to help segment and retarget key groups throughout the holiday and new year.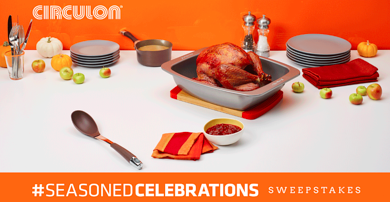 Sobeys' Instant Win Seek Santa Contest
Sobeys' Seek Santa contest was a virtual treasure hunt taking place across their website. Every time a visitor to their website found a Santa they were able to enter and find out if they won a variety of prizes instantly. Sobey's used the incentive of instant win to capture valuable zero-party data and understand audience insights surrounding product preferences for more targeted future marketing communications.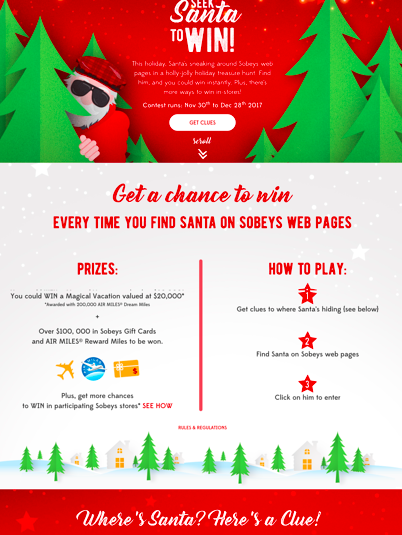 LEARN how the fastest-growing brands collect and activate zero-party data.