Scholastic's Tiny Traveler sweepstakes, running from now until March 21st, offers the ultimate grand prize for kids: a five-day / four-night Disney World getaway for four including airfare, hotel, ground transportation, theme park tickets, and a photo-op with the Disney characters. To enter for a chance to win, any kid under 12 (with the permission of his parent) can read that day's clue about the location of the Tiny Traveler and guess her location. A correct answer is worth three entries; an incorrect answer, just one. The campaign not only teaches kids geography, but it also offers four lessons for marketers hoping to reach children: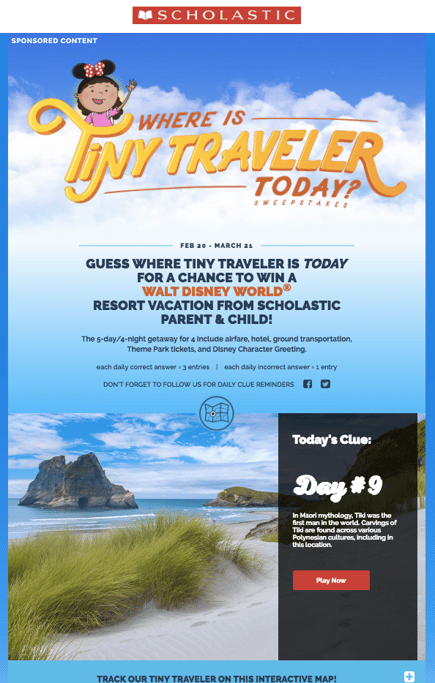 TELL A STORY
Children love stories, a fact that Scholastic's

Parent & Child Magazine

understands well. The campaign centers on the Tiny Traveler, a young cartoon character with a backpack and Mickey Mouse ears, who visits a new global landmark each day and meets friends along the way. Kids can follow Tiny Traveler's journey on a giant, interactive map tagged with every location, further contributing to the sense of adventure and excitement.
GRAB A PARTNER
Each destination on Tiny Traveler's journey includes a plug for a related attraction at Disney World. On day two, for example, TT visits the Serengeti. "

The Festival of the Lion King

show at Disney's Animal Kingdom® Theme Park is set in a theater-in-the-round," the caption reads, "which means that you can see all the action—including songs, acrobats, and African dance—no matter where you sit." The text is hyperlinked to directs reader to the Disney World website, a click-through that keeps the amusement park at the forefront of the campaign.

REACH THE PARENTS
Besides the obvious — that children need a parent's permission to enter the sweepstakes — Scholastic speaks directly to parents. Right below the map is a banner that reads, "ARE YOU TRAVELING SOMEWHERE? GET OUR TIPS!" and beneath that, a gallery of articles for parents on the go: "The New Family Travel Rules," "10 Things to Do before Your Child Turns Five," "We're Going on a Trip!: Making the Big Announcement!" The site doesn't just incept parents with the idea to travel to Disney World — it prepares them to follow through.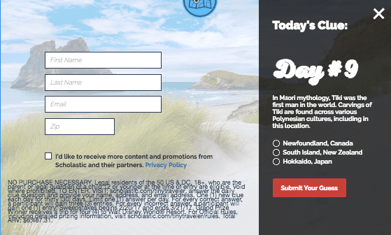 GO MULTI-PLATFORM
Along with creating the microsite, Scholastic linked the campaign to its Facebook and Twitter channels. Parents may forget to check the Tiny Traveler's progress each day but are likely to see the social media reminders, ensuring the highest possible participation. Moreover, while they're engaged, parents can check out Scholastic's other great content, like books to prepare kids to move houses and an article to help deal with the class clown.


For its compelling storyline, brand partnership, outreach to parents, and cross-platform approach, we think Scholastic's Tiny Traveler sweepstakes is a

textbook

digital marketing campaign for children.