Concept: Encourage consumers to share how their mom's wow them via custom ecards for the chance to be entered into a Mother's Day vacation sweepstakes.
Objective: Connect on a personal level with consumers to drive participation and social sharing; increase brand visibility around Mother's Day.
Digital Campaign Index (DCI) Score: 147
Use Case: eCard Creator + Sweepstakes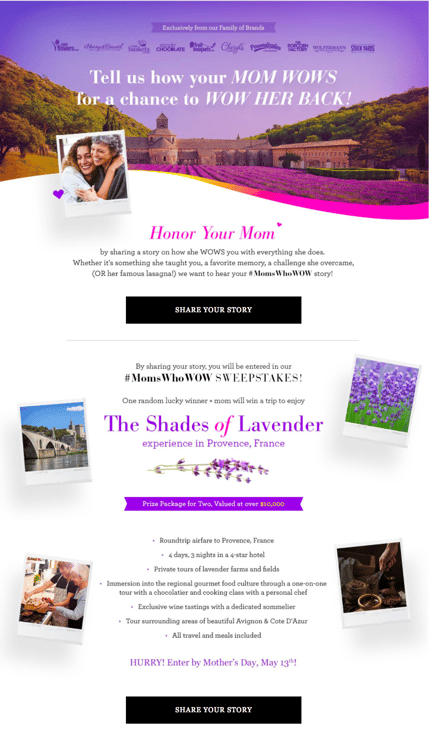 Few things feel as horrible as being a disappointment on Mother's Day. You knew Mother's Day was around the corner and had big plans for a Sunday brunch, a gorgeous gift to really show your mom how much you appreciate everything she does all year -- but then life happened. As you scramble at the last minute to pull something together, you think to yourself, how did I end up here...again.
It's okay – we've all been there and luckily for you, brands understand the struggle.
Social media has opened the door for brands to create experiences on Mother's Day that capture and celebrate the beauty of motherhood, embracing the good, the bad, and the funny. To help out their consumers this Mother's Day, 1-800-Flowers launched an equally sentimental and potentially rewarding eCard campaign. From now until Mother's Day, 1-800-Flowers is asking people to upload and share personal stories via custom eCards about how their moms wow them each day. As an added bonus to telling mom how special she is, 1-800-Flowers is also going to award one lucky person a vacation for two to Provence, France!
Make sure to check out 1-800-Flowers Mother's Day eCard campaign here and upload your own token of appreciation for mom.
DCI Overview: 147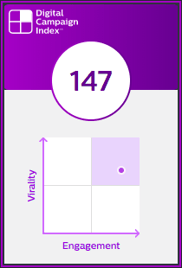 1-800-Flowers solid DCI score is a combination of their Engagement Score (ES) of 164 and a Virality Score (VS) of 131, and its success is due to a strategic pairing of campaign components to optimize for both sharing and engagement.
Engagement Score (ES): 164
Make it branded – but fun

. Just from their name it is pretty clear what type of business 1-800-Flowers is, and they leveraged their brand recognition to create timely and brand-relevant eCards featuring a sprig of Lavender. The card design was on brand, and also tied in their campaign prize name, "Shades of Lavender." Along with the campaign hashtag, their eCards did a great job of keeping their brand top of mind, without having to make it obvious by using a logo or on-the-nose text.

Connect on a personal level with fans.

To put their consumers and their moms in the forefront of their campaign, 1-800-Flowers solicited UGC on how amazing their moms are. The eCards uploaded in the gallery all appear with a frame with captions tied to a personal story. Letting your fans share intimate or sentimental moments and memories with your brand is a great way to build loyalty and trust.
Virality Score (VS): 131
Enable multiple options for sharing

. 1-800-Flowers made a great choice by enabling their campaign participants the ability to share entries in one of multiple ways, including Twitter and Facebook, facilitating the share process and driving earned reach.

Offer a digital solution.

Worldwide, an estimated 500 million e-cards are sent each year, and we feel confident in saying a good chunk are sent during Mother's Day. By creating and hosting a digital card option, 1-800-Flowers gave their consumers a fun way to celebrate their love for mom on Mother's Day and spare them a trip to purchase a paper version.
Interested in other tips and examples on how your brand can drum up some excitement and get consumers participating this Mother's Day? Check out our latest Spring and Summer Campaign Lookbook HERE.