Campaign of the Week: Absolut's "United We Celebrate" Interactive Fundraising Campaign
Concept: Launch a Cause Marketing program to support Keep America Beautiful (KAB), and other local charities across the United States, in celebration of the new limited edition Absolut® America bottle.
Objective: Promote the new limited edition Absolut America bottle, and encourage fan participation to raise funds for the nonprofit organization Keep America Beautiful.
Use Case: Cause Marketing + Interactive Visualizations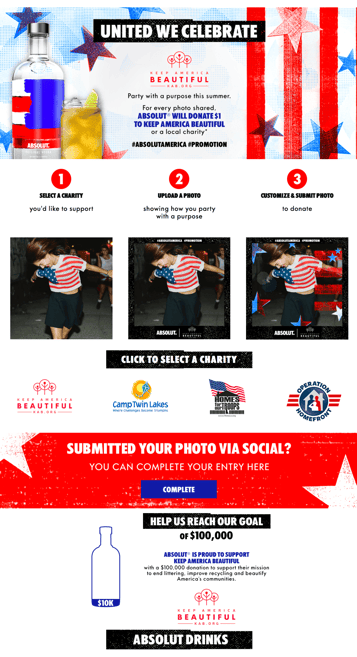 Between the weather, beach vacations, refreshing summer wardrobes and the many things that are top-of-mind when the summertime arrives, brands can get creative with the digital campaigns and tactics they use. Keeping your consumers engaged during the summer is a great way to keep them primed for any bigger plays later in the year during back to school and the holiday shopping weeks.
Absolut wasted no time launching the perfect summer campaign. To promote and celebrate their new limited edition Absolut America bottle, they teamed up with Keep America Beautiful (KAB), an organization with a mission to inspire and educate people across the nation to take action toward improving and beautifying their communities, so that everyone, everywhere can take part in creating a better tomorrow, today.
From now to September 3, 2018, Absolut will donate $1 to Keep America Beautiful for every photo shared showing how people party with a purpose using #AbsolutAmerica and #promotion. Fans can submit their photos on Absolut's "United We Celebrate" campaign microsite, where they can also select from a variety of local charities to support. To help fans track their fundraising progress, Absolut added an interactive visualization, which will display their progress against their goal of $100,000. You can read more about the campaign and initiative here.
To learn more about some general tips and recommendations that all brands can include in their campaigns to drive engagement and virality, keep reading below!
Engagement Score (ES)
Reinforce your brand story.

As a marketer, you spend a lot of time understanding what your brand stands for and how it is perceived by your consumers. Adding a cause to your marketing strategy can bolster your brand story, contextualizing what your brand stand for to consumers, helping them to engage with your brand in new and more authentic ways.

Consumers are looking to engage with brands that share their passion.

According to a Cone Communications study, 85% of consumers would switch brands to one associated with a cause they are also passionate about. This number according to Cone is even higher for millennial consumers.
Virality Score (VS)
Add a donation component to sharing.

Absolut's campaign is the perfect example of how brands can inspire their consumers to engage and share UGC by adding a donation element to participating in the campaign. As much as rewards and prizes can be incentives for consumers to participate in a campaign, they are equally as likely to get excited about participating to do good for a cause they believe in.

Track campaign progress with interactive visualizations.

While not directly related to encouraging sharing, adding an interactive visualization can inspire consumers to share and participate, since they can easily see how their actions and those of their social network are contributing to a larger goal. Take a look at Absolut's goal tracker as an example here.
Brands that run cause marketing campaigns receive a boost in sales and brand affinity, and the nonprofits that brands partner with also get a needed boost in funding and publicity. It is a perfect pairing where everyone walks away a winner, especially the communities and individuals that benefit from work of nonprofits around the globe.