Concept: Have cat owners upload their favorite fun and creative photos of their cats for the chance to win a variety of prizes
Objective: Encourage consumers to engage and share their best cat photos with ARM & HAMMER and JCPenney Portraits; build and nurture brand affinity
Digital Campaign Index (DCI) Score: 218
Use Case: Photo Contest with Voting
It is common knowledge now that cats rule the internet. From Instagram to the front page of YouTube the internet has become one giant cat park, where owners and cat fanatics are furiously uploading, liking, and sharing the latest viral cat moment.
Jack Shepard, a creative director at Buzzfeed, coined the phrase "virtual cat park" back in 2012 to describe the need for cat owners to revel in a shared space. Whereas dogs have actual dog parks, where dogs can play and dog owners can mingle, show off and bond over their pets – nothing like that existed for cat owners at the time. But as social media exploded and mobile video and photo capabilities grew more sophisticated, the internet created a space for cat owners, to connect with others online, share videos and photos of their cats, and relish in the fact that being a cat lover didn't put you in the minority.

Flash-forward to 2017, and ARM & HAMMER has created their own virtual cat park for their consumers where they can post, share, and easily like photos of other cats. ARM & HAMMER cat litter teamed up with JCPenney Portraits and Petmate to launch their Cat Photo Contest running through January 15, 2018. Cat owners can upload a picture of their furry friends to ARM & HAMMER'S virtual cat park for the chance to collect likes from other cat fans, but also be entered for the chance to win a variety of prizes, including a grand prize that includes a year's supply of ARM & HAMMER Cat Litter (literally the dream for a cat owner) and $200 worth of prizes from JCPenney Portraits and Petmate.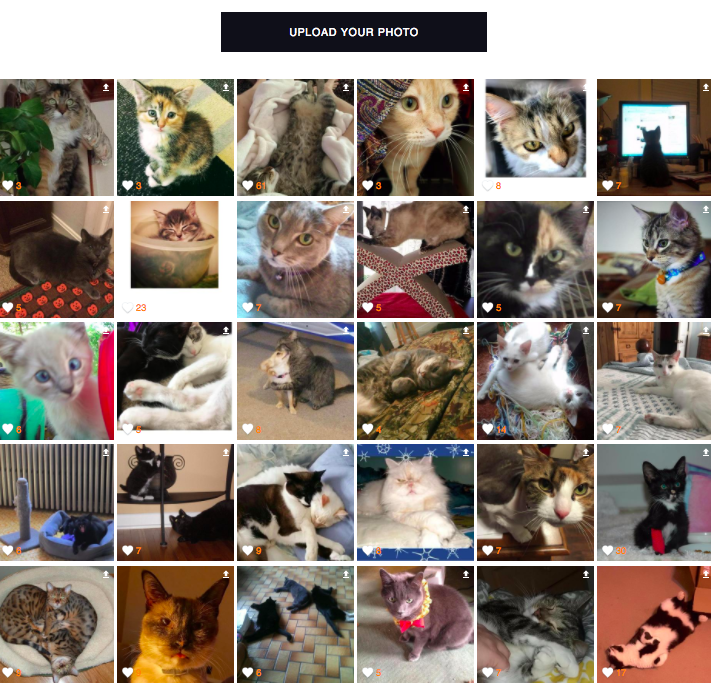 ARM & HAMMER understands their consumers' love for their pets, but also the unique culture that has developed online around cats and the people that can't get enough of them, tapping into an active community built around sharing. Their approach paid off with a DCI score of 218, and will most likely continue to increase through the holidays.
DCI Score Overview: 218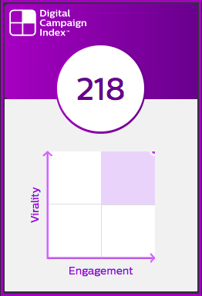 ARM & HAMMER'S DCI score is a combination of an Engagement Score (ES) of 219 and Virality Score (VS) of 217. This campaign's overall DCI is elevated by its high engagement and virality scores, which are the result of a highly shareable concept and a campaign landing page optimized for viewing and clicking/liking via the photo gallery.
Check out more details below on best practices you can incorporate into your digital campaigns to optimize for success.
Engagement Score (ES): 219
Take advantage of improved tech features. ARM & HAMMER took advantage of the Wyng Platform to enable a photo gallery that allowed visitors to easily like uploaded photo galleries. The approach enabled ARM & HAMMER to design a unique experience with functionality that was familiar for visitor's visiting the contest cat gallery.
Capitalize on existing digital communities. Tying your campaign to a pre-existing and highly engaged community online, can be a simple, but highly successful tactic to increase engagement with your campaign. ARM & HAMMER leveraged the Internet's obsession with cats to increase engagement and interest in their own contest.
Virality Score (VS): 218
Drive sharing via voting. ARM & HAMMER will have a formal judging process to determine the grand prize winner, but they have enabled fans to vote for their favorites before the formal judging, increasing the number of people visiting and sharing their individual photos to solicit votes and drive earned visits.
Allowing one vote per day. A best practice we repeat often, is not to limit consumers to one vote during the campaign voting process, but enable consumers to have one vote, per day, which will not only drive repeat traffic, but also repeat content and campaign-level sharing.
The ARM & HAMMER team launched a campaign that takes advantage of the premium cat content that is already being published and shared across the internet. So, if you haven't already, go visit their cat photo gallery and maybe upload a photo of your own to join in on the cat chatter!

Learn more about the Wyng Digital Campaign Index here.