Concept: Use the 10-digit upc number found on any Bai product to launch an online and in-store sweepstakes for a VIP experience to meet Justin Timberlake.
Objectives: Drive in-store purchases of bai products and engagement, leverage digital/social to activate consumers and capture first-party data.
DCI Score: 221
Use Case: Sweepstakes + In-Store Activation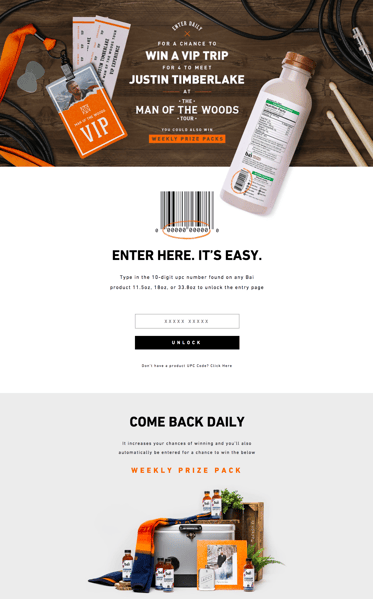 New and innovative technology attracts attention and excites consumers, driving engagement and virality. Immersive and interactive experiences have become the norm for advertisers and marketers, especially as consumers become ever-reliant on their mobile devices.

Today, shoppers are smarter than ever and shopper marketing is no longer just coupons and endcap displays. While these are still important components, branded websites, user-generated content, and digital promotions are all helping to drive in-store traffic. For example, in Bai's latest campaign, a sweepstakes where consumers could enter for the chance to win a VIP concert experience with Justin Timberlake, they merged in-store and online to create an interactive shopper marketing campaign geared towards driving engagement and in-store purchases.
To unlock the entry form and enter the sweepstakes, Bai consumers will have to upload their 10-digit upc number found on any Bai product. To further enhance touch-points between Bai, their products and their consumers, they embedded within their website, making navigation to learn more about new and existing products easier for consumers.
Incorporating an in-store element, like a receipt or product code, into your online experiences is savvy and easily executable way to bridge in-store and online activities.
DCI Score Overview: 221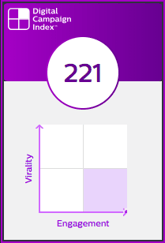 Bai's product code sweepstakes' DCI score is a combination of an Engagement Score (ES) of 442 and Virality Score (VS). Bai has optimized their campaign for maximum engagement, rather than virality and sharing, which is clear in their exceptional engagement score and rates.

Check out more details below on best practices you can incorporate into your digital campaigns to increase Engagement and Virality, as well as drive in-store purchases using online channels.
Engagement Score (ES)
Find an Online Shared Space

. It used to be that brands and retailers were distinct entities: A brand could link to a retailer's website, and a retailer could reciprocate by promoting a brand's product, but the two actions were unconnected. Today, brands and retailers can share a digital space. Bai was able to bring the gap between their brand and the many retailers that carry their products in store, by creating an online sweepstakes that required a consumers to purchase a physical product.

Leverage your in-store products online

. Creating a campaign that asks for information found on a customer's receipt or a product has the ultimate advantage in marketing: it allows you to target consumers who you know are already engaged. With sleek, user-friendly sites, the process takes less than a minute and incentivizes repeat visits.
Virality Score (VS)
To learn more about ways you leverage interactive experiences for shopper marketing campaigns, check out our Shopper Marketing Guide.