Concept: To celebrate the launch of Bose's very first audio sunglasses, Bose Frames, their team launched a UGC sweeps to send a few lucky fans to see some their favorite music LIVE!
Objectives: Encourage in-store try-ons of the new Bose Frames and social sharing via boomerang, video, or gif. Generate new product awareness leading into the spring/summer season.
DCI Score: 95
Use Case: UGC Sweepstakes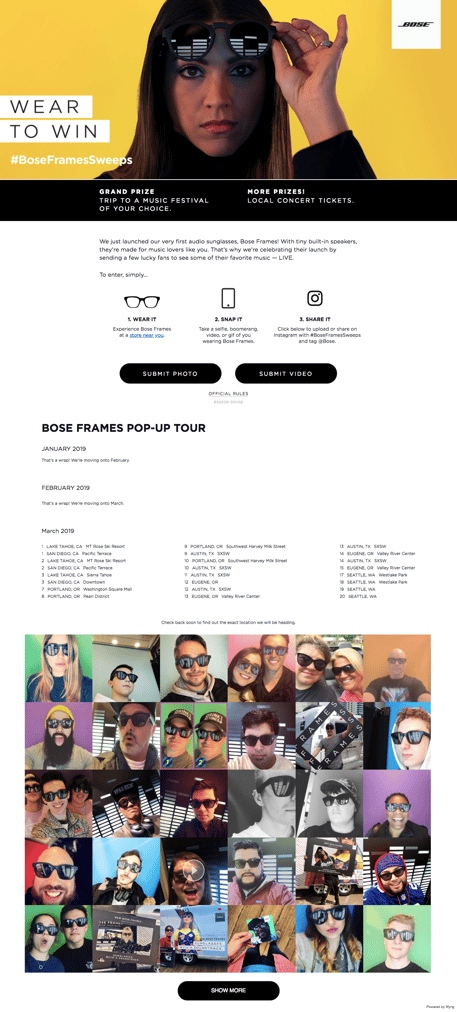 Every season has something different to offer to a marketing professional's strategy. Spring and summer are more than just seasons, they're opportunities for businesses to thrive. The spring and summer seasons come with unique holidays and activities, which are ideal for encouraging consumers to get outside to shop, share, or participate with your brand.
Bose is kicking off the spring and summer season with a fun and timely UGC sweepstakes to celebrate the launch of their very first audio sunglasses, Bose Frames! With tiny built-in speakers, they're made for music lovers. Bose is celebrating their launch by sending a few lucky fans to see some of their favorite music — LIVE.
From now until Tuesday, April 9, fans will be able to enter the Bose "Wear to Win" sweepstakes by finding the Bose store nearest to them to upload a boomerang, video, or gif of them trying on the Bose Frames using #BoseFramesSweeps. Winning fans will have the chance to pick from live music events at SXSW, and other festivals.
Check out their music inspired campaign here.

DCI Score Overview

Bose's campaign is off to a great start, with more than a month ahead till the end of their campaign with a DCI Score of 95, driven by a solid engagement performance (Engagement Score (ES) of 173).
Tap into your fans' interests. It is safe to say that most people have strong opinions when it comes to music. Bose paired their new audio sunglasses with their fans love of music to boost awareness for their new product and its capabilities.
Keep it branded. Bose's concept for the campaign was based on the lifestyle that they project in their products and their brand's persona. It's something we say often here at Wyng, consumers want to interact authentically with brands, and they can smell fake sentiment from a mile away. Keep your campaigns authentic and in-line with the vision you have for your brand.
Give away seasonal items. A giveaway that is topical to the season is a simple and smart way to encourage participation. People spend more time outside during the summer, so Bose offering outdoor music experiences and promoting their new audio sunglasses is a perfect pairing. It is a seamless, interactive way to communicate their new product story to consumers.
To see these best practices in action, check out Bose's microexperience here.
And be sure to download the our look book of the Best Spring and Summer microexperiences here.