Concept: Build excitement and drive pre-orders for The Intruder, a new 90's inspired shoe launching in March from Cat Footwear.
Objectives: Acquire new opt-in contacts/emails by enabling consumers to sign up to be the first to know when the new Intruder shoe will be available for pre-order.
DCI Score: In-Progress
Use Case: Sign Up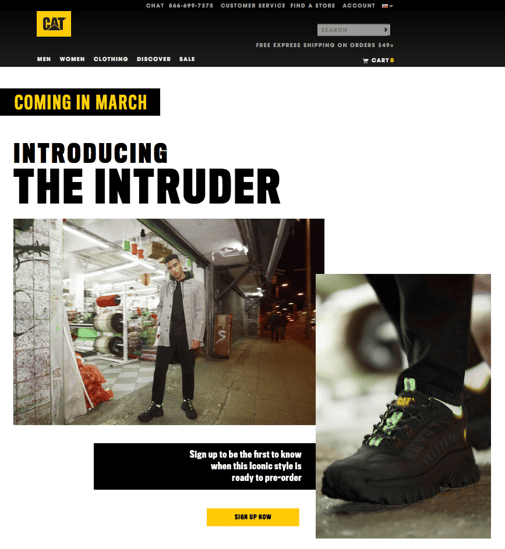 The current trend for chunky, overbuilt footwear compelled Cat Footwear to take inspiration from an iconic style from the 90's and create The Intruder: a street/performance hybrid chunky shoe that drops in March 2019.

To build awareness, generate excitement and drive pre-orders ahead of the March launch, the Cat Footwear team created a microexperience that showcases The Intruder, combining eye-Catching static and animated visuals and a compelling narrative. The microexperience, which is embedded on the Catfootwear.com site, also gives people a way learn when the shoe becomes available for pre-order and opt-in to receive additional insider info.

Cat Footwear is promoting the microexperience on their website and on social channels -- Instagram, Facebook and Twitter -- with the message "INTRUDER ALERT."
You can get a sneak peek at the Intruder here.
DCI Score Overview
The Intruder microexperience reflects several best practices that contribute to DCI performance, including both Engagement Score (ES) and Virality Score (VS):

Create a sense of exclusivity. Concepts or creative that convey a sense of exclusivity, insider knowledge or early access can be a great way to tap into the universal desire to be "in the know."
Build anticipation. Hollywood and Apple both are well known for teasing audiences and generating buzz and excitement in advance of a launch. The same techniques can generate awareness and keep interest high in your campaigns.
Promote across channels. Microexperiences are inherently omnichannel, making it easy to link and drive participation from all of your paid and owned media -- your brand.com site, social media accounts, email newsletters, social or display ads, influencers and others.
To see these best practices in action, check out the Intruder microexperience.