Concept: To celebrate moms and all the bold things they say, Chico's launched a photo lab contest in honor of Mother's Day.
Objective: Drive brand visibility during Mother's Day; elevate the voices and provide a platform for Chico's consumers to share their personal stories about bold mom moments.
Digital Campaign Index (DCI) Score: 88
Use Case: Photo Lab + Contest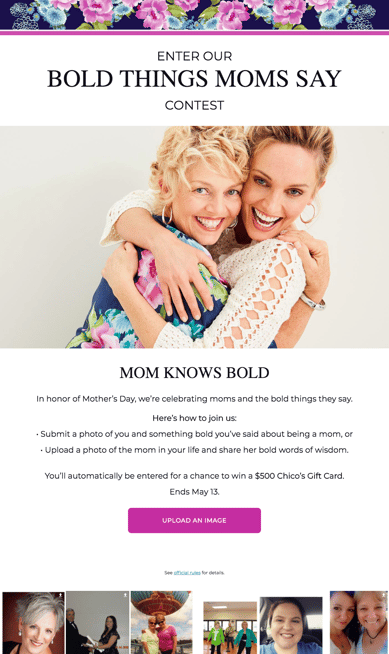 With Mother's Day quickly approaching, many consumers will be scrambling to get last-minute cards, flowers, and gifts for mom ahead of Sunday. For marketers, there is no such luxury. Many brands were already planning and thinking about Mother's Day at the start of the new year, to develop and build exciting campaigns to engage and give consumers a leg up on Mother's Day this year with special discounts and sweepstakes that have mom yelling, "YAS!"
To give their consumers a special opportunity to win big on Mother's Day, Chico's launched an interactive photo lab contests calling on consumers to share the bold things their moms say, or maybe even the bold things they say themselves! Fans of Chico's will be able to either 1. submit a photo of themselves and something bold they've said about being a mom, or 2. upload a photo of the mom in their life and along with her bold words of wisdom for the chance to win a $500 Chico's Gift Card. The photo and caption contest is open until May 13th.
Chico's "Bold Things Moms Say" contest is part of their larger campaign, the "How Bold Are You?™" campaign. The campaign is about celebrating being bold at every age. Chico's is asking women to be proud of where they are in life, embrace their age, and be proud of their unique bold style. The campaign was built out of Chico's core beliefs as a brand, which include standing for: growing bold, for color, for print, for dressing in your outside voice, for that extra special something. For being bold!
Make sure to check out Chico's Mother's Day campaign here.
Digital Campaign Index (DCI) Overview
Chico's has a strong DCI score of 88, which is a combination of their Engagement Score (ES) of 128 and a Virality Score (VS) of 44.
To learn more about some general tips and recommendations that all brands can include in their campaigns to drive engagement and virality, keep reading below!
Engagement Score (ES)
Embed on your website. Chico's promoted their Mother's Day contest through their eCommerce website, which is a smart choice to make. By embedding your campaign on your main website you are keeping consumers on your site and encouraging them to learn more about your products or brand's story and values.
Leverage a moment. Leveraging a moment that many consumers are drawn to – a holiday, event, or even an emotion, is a great way to boost engagement and ensure that your campaign is timely and relevant. By giving consumers the chance to interact or showcase how they are living or experiencing these moments, brands can organically be part of the larger conversation.
Virality Score (VS)
Let your consumers create and share. Chico's didn't need to produce expensive new content, instead, the brand turned to their consumers who are already online creating, sharing and acting as unofficial brand ambassadors every time they snap a photo or upload a video. Giving your fans the opportunity to create and share their personal stories and content with your brand can boost sharing and brand affinity. A double win!
Interested in other tips and examples on how your brand can drum up some excitement and get consumers participating during the summer? Check out our latest Spring and Summer Campaign Look Book here.