Campaign of the Week: CNBC's "My Worst Job Interview" Video Gallery
Concept: Launch a co-created content video gallery to accompany the premiere of CNBC's new series "The Job Interview"
Objective: Drum up excitement ahead of the series premiere; give viewers an opportunity to engage and contribute to CNBC's Video Gallery
Digital Campaign Index (DCI) Score: 60
Use Case: Brand Video Filter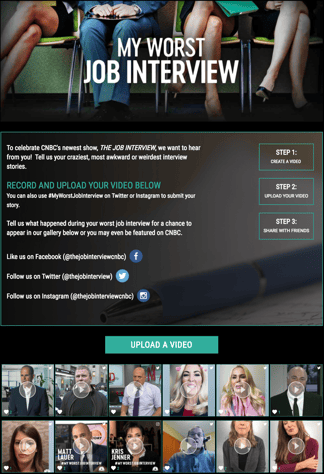 We've all had our awkward or embarrassing encounters. Those cringe-worthy moments that you potentially replay repeatedly for a day, week, or in my case since your 7th birthday. For some people that exact moment when everything seemed to go wrong may have been a job interview. Which if you ask most professionals, would be at the top of the list of most vulnerable times, along with company-wide presentations and being caught crying at your desk while watching animal videos.
We all have an embarrassing story from a job interview, and some are more unfavorable than others. To celebrate their newest show, The Job Interview, CNBC is asking fans to share their craziest, most awkward or weirdest stories for the chance to be featured in their Video Gallery or even on CNBC.
To submit a video, CNBC is asking fans to create and upload a short video about their worst job interview moment, and upload to either their campaign website, or submit using #MyWorstJobInterview on Twitter or Instagram. CNBC's campaign is on its way to be a success, unlike some of the job interviews their fans are sharing.
DCI Score Overview: 60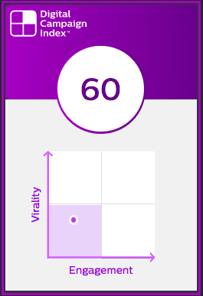 CNBC's DCI score is a combination of an Engagement Score (ES) of 49 and Virality Score (VS) of 71. CNBC made great use of co-created video content to encourage sharing and engagement, highlighting their new series and potentially providing fans with a safe place to find some relief and catharsis!
Check out more details below on best practices you can incorporate into your digital campaigns to optimize for success.
Engagement Score (ES): 49
Let your consumers get personal. More so than photos, video offers consumers the chance to open up and get personal with a brand. Having consumers speak to what they love, hate, or are embarrassed by is a powerful tool for building brand loyalty and increasing the chances they will share with their family, friends, and social networks.
Add a video gallery. 55 percent of consumers watch video online every day and adding a video gallery to your campaign page is a great way to increase the time consumers spend on your site scrolling and clicking.
Virality Score (VS): 71
Video is red hot. Video is having a major moment, and brands and marketers are in a great position to leverage enthusiasm for video to activate consumer sharing and reach new and existing audiences across social channels. Learn more about the value of adding video to your next campaign here.
It all comes down to the framing. CNBC created custom branded video frames as overlays for the videos submitted. Branded frames are a great way to tie content being shared back to your brand and campaign.
The rise in video is giving brands and marketers the opportunity to engage consumers in co-created digital campaigns that offer high pay off in terms of virality and engagement, and CNBC's "My Worst Interview" campaign is the perfect example of how video can and should be used.
So, if you haven't yet, head over to CNBC's campaign website and submit your own cringe-worthy job interview story, because seriously, who doesn't want to be on TV?! And keep an eye-out for mine, it involves saran wrap, Chipotle, and a gaggle of NYFW models.
Learn more about how you can launch a Branded Video Filter campaign here.