Concept: Leverage interest in brackets during March Madness to have fans choose two champion Corner Bakery dishes for the chance to win.
Objectives: Engage consumers during March Madness with a product themed bracket sweepstakes to drive engagement and brand affinity.
Digital Campaign Index (DCI) Score: 114

Use Case: Bracket + Contest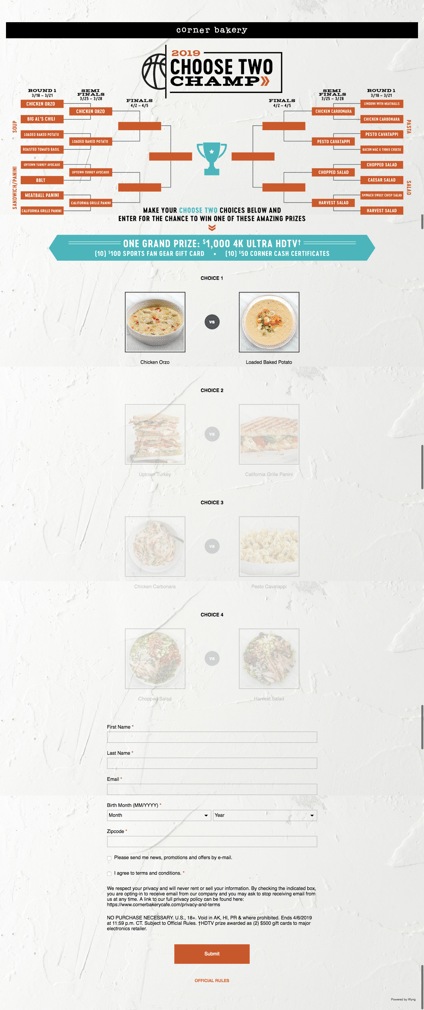 The bracket has become synonymous with March Madness and brands have jumped on board to leverage the appeal and engagement opportunities that brackets present. Corner Bakery is one of the brands, that is tossing their hat into the ring this March, by launching their own topical, but unique, bracket campaign to engage both basketball and non-basketball fans during the tournament.
Corner Bakery built a bracket pitting their best menu items against each other and fans who participate are being given the chance to win a variety of prizes leading up the final round, where two menu items will be named champion. Building a bracket microexperience featuring their menu items was a smart way to engage both existing and new consumers by leveraging March Madness to get in front of new audiences.
Check out their delicious bracket HERE.
DCI Score Overview

Corner Bakery's DCI score is a solid 114, and is a combination of an Engagement Score (ES) of 170 and Virality Score (VS) of 58, and is a great example of a well-timed campaign designed to appeal to their core fan base, as well as new audiences tuned into March Madness.
Make your bracket stand out. The first step to creating a great bracket that will boost your marketing initiatives engagement is knowing your audience. The better you know your target consumers and fans – from their interests, pain points, and habits -- the more likely it is that your bracket and campaign will stand out and resonate. The first step to understanding your audience is having a rich dataset to pull from.
Don't forget to add a sharing element. Brackets are a great tactic for boosting engagement and brand affinity due to the process of selecting, clicking and tracking the results of the competition. It can be easy to forget to build in sharing components and incentives to encourage your fans to also share their brackets online, whether for bragging rights or extra chances to win.
Give your consumers what they want. Digitally savvy consumers are looking to brands to entertain, engage and offer something in return for their time, attention and personal data. Brands and marketers have access to the technology and tools to deliver entertaining and relevant content to their consumers through interactive, microexperiences, for example a bracket, that allows a brand to acquire opt-ins, and enable direct, transparent, trusted engagement.
For more campaign inspiration, download our best of 2018 lookbook HERE.