Campaign Goals: Encourage consumers to apply custom stickers and frames to photos to drive participation and social sharing, increasing brand visibility around Mother's Day
Use Case: Photo Lab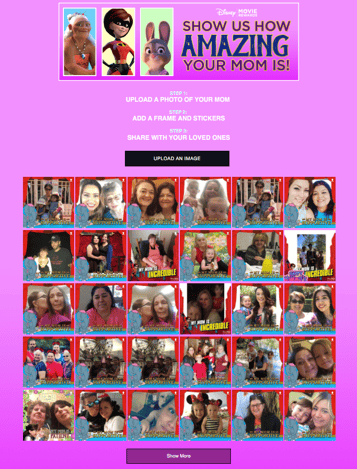 Beauty and the Beast, Frozen and the Moana, are just a few of the iconic movies that Disney has releasedsince their first animated film in the 1930s. Ask most people and they will have a strong opinion on their favorite Disney movie (personally, mine is a tie between the Little Mermaid and Beauty and the Beast). Disney is fortunate to have a tribe of committed and enthusiastic fans that are looking to engage with them. To promote their Mother's Day Photo Lab, Disney Movie took advantage of their active fan base, encouraging them to upload photos to show how amazing their moms are by adding custom stickers and frames featuring Disney's latest movie characters. Disney hit on three best practices to ensure their campaign was a box office success:
Join the conversation.

It would be easy for Disney to sit back and let their fans do all the work for them, but instead they are capitalizing on the conversation already happening around their brand. Disney created frames based on their movies and gave their fans the opportunity to upload photos to co-create shareable content with them, increasing Disney's brand visibility.
Embed on your website.

Disney promoted their Disney Rewards Program through their Mother's Day Photo Lab and made the smart choice to embed the Photo Lab on the Disney Movie Rewards website, keeping consumers on the site and encouraging them to learn more about reward offers that they may be of interest.
Connect on a personal level with fans.

To include their fans as much as possible, Disney solicited UGC on how amazing their moms are. The photos uploaded in the gallery all appear with a frame with captions tied to a Disney Movie with a personal twist for Mother's Day, like "My Mom is Incredible" or "My Mom is my Hero."
Fans are the best form of advertising and even if a brand doesn't have a fan base on the scale of Disney, they can still benefit from adapting their digital marketing strategy to energize and elevate the conversations already taking place.
Interested in other tips and examples on how your brand can drum up some excitement and get consumers participating this Mother's Day? Read our other blog post on Mother's Day campaigns here.