Concept: Have aspiring insta-fashion stars share their personal style looks for the chance to work with E! as an InstaStyle Girl during NYFW.

Objective: Encourage consumers to engage and share their best personal style looks. Promote the partnership with E! and the UK retailer PrettyLittleThings.

Digital Campaign Index (DCI) Score: 87

Use Case: Photo Lab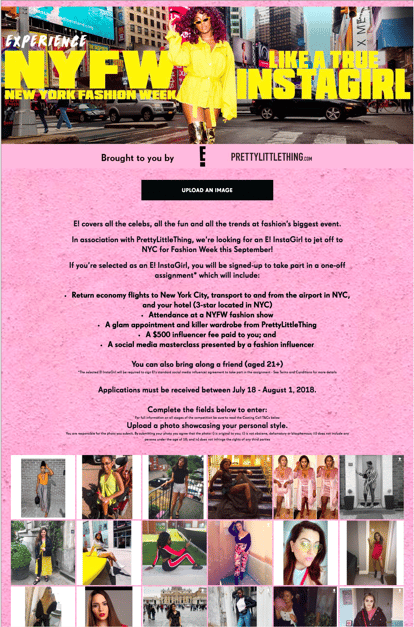 "She is serving 1990s Naomi Campbell realness!" – is what E! is asking aspiring fashionistas and fans to do as part of their New York Fashion Week "Like a True InstaGirl" photo contest in partnership with the UK clothing retailer, PrettyLittleThings. E! covers all the celebs, all the fun and all the trends at fashion's biggest event during NYFW, and with PrettyLittleThings they are looking for an E! InstaGirl to jet off to NYC for Fashion Week this September!
To celebrate fashion week and get consumers online and sharing E! and PrettyLittleThings will be collecting entries until August 1, 2018 via their campaign's website, which they made available in the UK, Australia, and France, by taking advantage of multi-language and text customization capabilities. If selected, one lucky person will win a fierce prize package, that includes:
Return economy flights to New York City, transport to and from the airport in NYC, and your hotel (3-star located in NYC)

Attendance at a NYFW fashion show

A glam appointment and killer wardrobe from PrettyLittleThing

A $500 influencer fee paid to you; and

A social media masterclass presented by a fashion influencer
Check out E! and PrettyLittleThings NYFW experience here.
DCI Score Overview: 87

E!'s DCI score is a combination of an Engagement Score (ES) and Virality Score (VS) and is a great example of a well-designed campaign with growth potential as the campaign progresses. As the campaign runs, they are going to benefit from the easy upload capabilities and timely pairing with New York Fashion Week.

Check out more details on some best practices any brand can incorporate into their campaign's to optimize their Engagement Score (ES) and Virality Score (VS).

Engagement Score (ES)
Keep your campaign timely

. Aside from maybe the MET Ball, New York Fashion Week is the premier fashion event, so what better time to launch a style focused campaign. Consumers are more likely to engage with a campaign that aligns with their current conversations, interests and activities -- and the content they're sharing, in this case fashion+beauty!

Team up to make it pop

. Teaming up with a partner for a campaign can be a great way to expose your brand to additional audiences, increasing the likelihood of new audiences visiting and interacting with your campaign. E! made a great choice by partnering with PrettyLittleThings.



Virality Score (VS)
Inspire your consumers inner Brad Goreski.

E! and PrettyLittleThings kept their ask simple and but the prize was far from it. To enter the contest, all consumers have to do is upload a photo of themselves showing off their personal style. Consumers can get as avant-garde as they would like with their contest submissions.

Make a social connection.

E! Picked a great name for their campaign, and while not directly tied to the social network, Instagram, including a callout to Insta Style was a smart choice to give their campaign a social edge.



E! and PrettyLittleThings NYFW style contest has us saying, "You better werk," and we will certainly be keeping an eye on this campaign to see the style inspo entries they receive.