Concept: To celebrate the 2nd annual National Nail Polish day on June 1st, essie launched a sweepstakes giving their fans the chance to win a trip to essie's headquarters to design their own custom nail polish shade.
Objective: Leverage a sweepstakes to acquire new emails to increase their database; promote campaign using Snapchat ads.
Digital Campaign Index (DCI) Score: 82
Use Case: Sampling + Sweepstakes
From dusting off our pastels to meticulously planning how we will be getting to the beach, spring and summer are arguably two of our favorite seasons here at Wyng. Every season has something different to offer to a marketing professional's strategy. The spring and summer seasons come with unique holidays and activities, which are ideal for encouraging consumers to get outside to shop, share, or participate with your brand.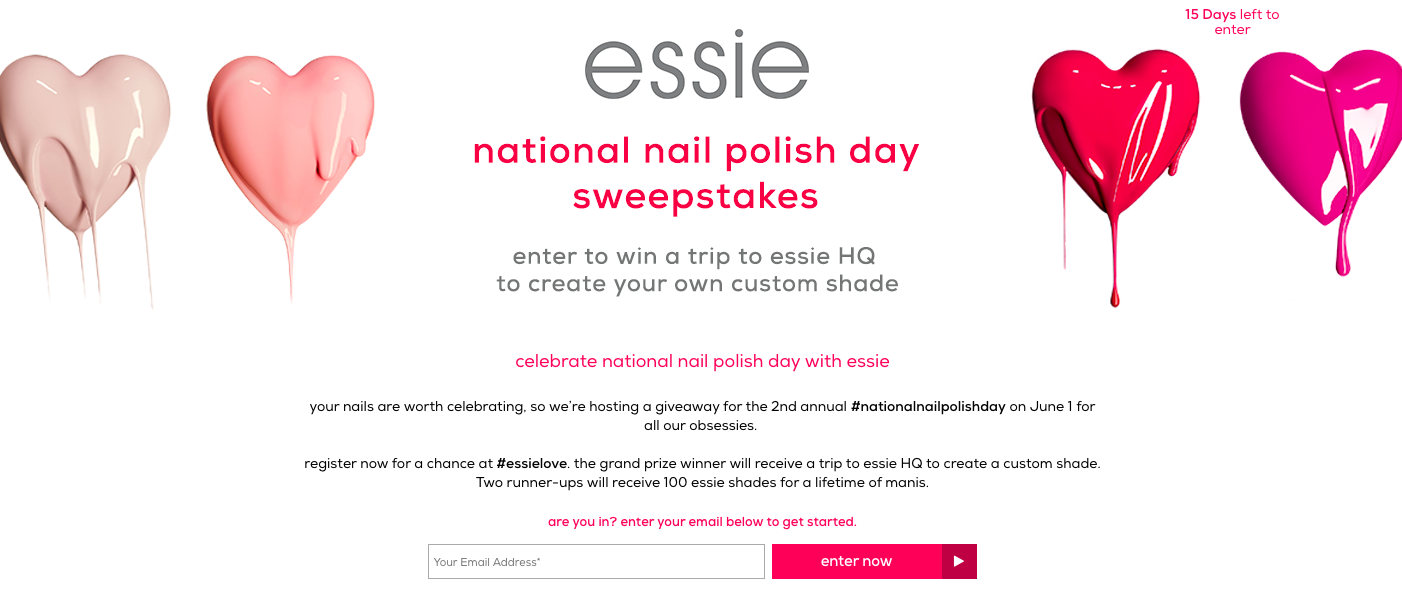 essie is doing exactly that with their latest spring/summer-inspired campaign around National Nail Polish day on June 1st. With 14 days left in their sweepstakes, essie fans can enter the sweepstakes through essie's website or a series of Snapchat ads they are running, to win a chance to visit the essie's HQ and design their own nail polish shade. For all of essie's "obsessies" this sweepstakes is a knockout.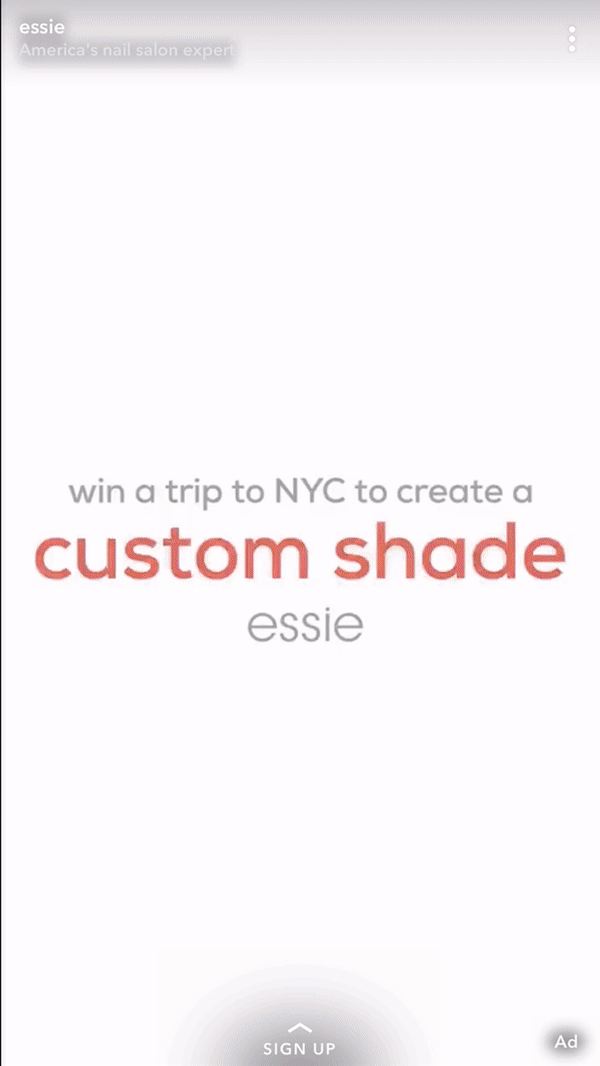 To lower the bar and give fans multiple options for submitting their form, essie is using Snapchat to serve ads encouraging people to submit their info to enter for a chance to win. As mobile usage continues to increase, savvy marketers are getting creative with how they incorporate and leverage mobile capabilities in their promotional and sweepstakes activities.
Make sure to check out essie's campaign here.
Digital Campaign Index (DCI) Overview
essie's has a DCI score of 82, which is a combination of their Engagement Score (ES) of 164 and a Virality Score (VS) of <25.
To learn more about some general tips and recommendations that all brands can include in their campaigns to drive engagement and virality, keep reading below!
Engagement Score (ES)
Add a mobile component to your sweepstakes activities.

Leveraging mobile channels is a powerful and highly effective method for connecting with your consumers in the moment with the right message. Adding a mobile element, via an ad, promoted sign-up form, or text messaging is a great way to enhance online promotions and sweepstakes and make an instant impact.

Bypass ad blockers and high unsubscribe rates.

As ad blockers become more advanced and more consumers choose to opt-out of email, reaching the right consumers in the moment is becoming more difficult. To combat these issues and boost engagement brands like essie are turning to interactive experiences on Snapchat or Facebook to provide consumers with native experiences that feel authentic and serve as a great workaround to ad blockers and unsubscribe features.
Virality Score (VS)
Create a moment.

Creating a unique moment that your fans can engage with your brand on can be just as good as using an established holiday or event. Creating a ownable moment for your brand, may even be more useful for boosting engagement and sharing. Look no further than Amazon's "Prime Day" as an example.

Omni-channel promotion is essential.

Consumers now are always on the go, facilitated by enhanced mobile capabilities and flexible working schedules. To encourage sharing and get the word out about your campaign, brands need to a take an omni-channel approach to their promotional tactics, hitting, online, mobile, in-store and offline channels.
As mobile usage continues to steadily increase, making use of social media and messaging to engage in real-time interactions will be essential for reaching key audiences — whenever and wherever – so you are always top of mind.