Concept: Pit two party influencers in a head-to-head Friendsgiving party design challenge on a tiny $500 budget
Objective: Encourage consumers to vote for their favorite influencer to drive engagement and build brand loyalty
Digital Campaign Index (DCI) Score: 59
Use Case: Faceoff
Before HGTV took over our weekends and social media designers became mini-celebrities, there was TLC's hit show, Trading Spaces. The concept was simple; two neighbors swap homes and two designers are pitted against each other to redesign a room in the other's house with a budget of $1000. To see some truly head scratching redesigns, we encourage you to Google Trading Spaces + Hildi Santo Tomas. We promise you won't be disappointed.
In a fun twist to the Trading Spaces formula, Evite has launched an equally entertaining digital version getting two popular influencers to go head-to-head to create a Friendsgiving party with a tiny budget and even tinier space. Evite teamed up with Sam Ushiro of "Aww Sam" and Jenni Radosevich of "I SPY DIY" for an Influencer Faceoff and the results are stunning. Check out the below video for proof!
Evite then asked their fans to vote for their favorite in a tug-of-war style voting faceoff. By voting, fans are entered for the chance to win a $500 Visa gift card, which they can maybe use to throw a $500 tiny Friendsgiving of their own. Evite's approach paid off, drumming up solid levels of engagement with their campaign, and exposing their consumers to a wealth of great content and inspiration for throwing their own parties this holiday season.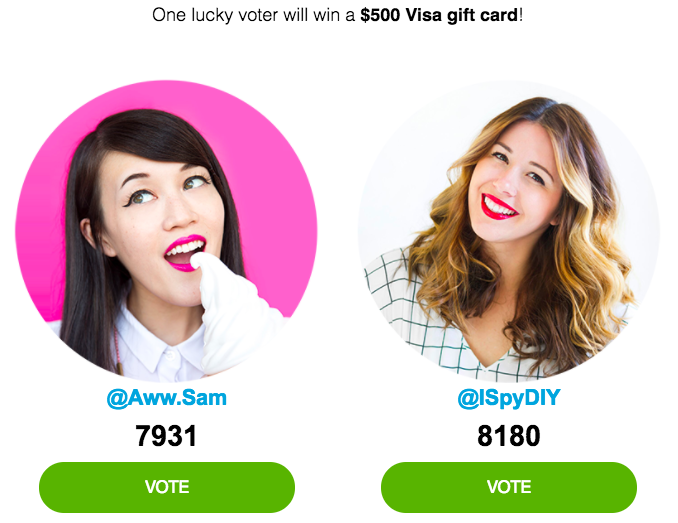 DCI Score Overview: 59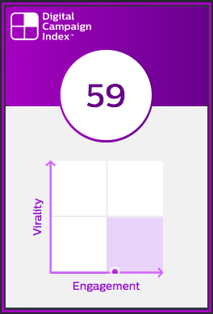 Evite's DCI score is a combination of an Engagement Score (ES) of 114 and Virality Score (VS) of <25, and is a great example of a well-rounded, successful campaign. Evite's "Tiny Party Friendsgiving" challenge benefited from their unique concept, strong brand tie-ins and a simple call-to-action for fans.
Check out more details below on best practices you can incorporate into your digital campaigns to increase engagement and social sharing.
Engagement Score (ES): 114
Appeal to your consumers' inner critic. Whether we like to admit it or not, we all like to think we have the taste and design sensibilities of Ina Garten from time to time. Evite gave their fans the chance to play the critic and select their choice for the best designed party, a great way to encourage engagement.
Timing is everything. It's important to ensure your campaign is timely to guarantee that it won't be a total flop. Consumers are more likely to engage with a campaign that aligns with their current conversations, interests and activities -- and the content they're sharing.
Virality Score (VS): <25
Video is Having a moment. Evite included an Instagram worthy video of Sam Ushiro of "Aww Sam" and Jenni Radosevich of "I SPY DIY" designing their tiny rooms, along with some solid tips that anyone can incorporate into their next party. Including well-designed and engaging content, especially video, encourages people to share with their social networks.
Influencer marketing is here to stay. Social media audiences will engage with brands, but when it comes to purchasing decisions, consumers are turning to friends, family, and other social media influencers. Influencers have become a trusted resource for many consumers and have amassed thousands and in some cases millions of fans by connecting with their online audiences and curating trustworthy content and recommendations that fans will like, share, and save. Evite made a great choice to highlight two well-known social media and party planning influencers to promote and participate in their campaign.
Evite took the Faceoff use case and crafted an engaging and shareable campaign tailored to their audience. Their approach can be applied to multiple different digital campaign concepts from product launches to public relations campaigns.