Concept: Engage consumers by offering the chance to win a trip to Italy or a year's worth of free Fazoli's Family Meals
Objective: Drive brand awareness, sharing and sign-ups through a sweepstakes
Digital Campaign Index (DCI) Score: 252
Use Case: Sign Up
Fazoli's is shaking things up and giving a whole new meaning to fresh Italian cuisine. In June, Fazoli's came out and publicly announced they were committing themselves to removing all artificial preservatives and additives from their food. To promote their new 100% fresh and natural menu and acquire email addresses from consumers, they decided to run a mouth-watering enter-to-win sweepstakes.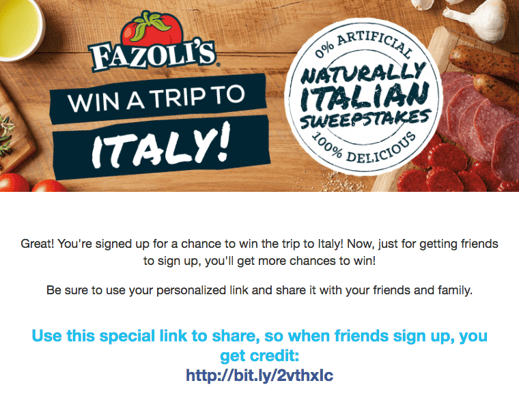 Fazoli's "Naturally Italian" sweepstakes, running from now until August 31st, offers the ultimate grand prize for anyone with a carb addiction and the itch to travel, a travel package that includes airfare and hotel vouchers to Italy, along with a $1000 Fazoli's gift card. In addition to a five-star prize package, the Fazoli's team combined the right ingredients for the perfect enter-to-win sweepstakes recipe by including components that optimized consumer engagement and virality, which is reflected in their DCI score of 252.
DCI Score Overview: 252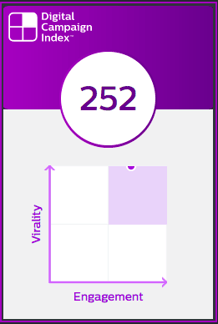 Fazoli's is cooking up a winner with their "Naturally Italian" sweepstakes and it is performing extremely well, with a DCI Score of 252, comprised of an Engagement Score (ES) of 139 and a Virality Score (VS) of 366. This campaign's overall DCI is largely the result of its high virality score, which is a result of this campaign's sharing components.
The Fazoli's team has picked up some tricks over the course of running multiple campaigns with Wyng, and the key learnings they applied to their "Naturally Italian" sweepstakes have paid off. The campaign's DCI Score is the result of several best practices that they implemented to encourage sharing, including adding a campaign hashtag and giving participants multiple chances to win when they shared the sweepstakes with friends and family. To maximize engagement, they streamlined the submission process and offered an unbeatable prize.
This campaign has an above average virality score due to the share components that Fazoli's added to encourage consumers to share the campaign with friends and family. By giving everyone who entered a personized link to share the sweepstakes for additional chances to win, Fazoli's is encouraging even more sharing and engagement before a grand prize winner is announced after August 31, 2017.
Check out more details on their mid-campaign Engagement Score (ES) and Virality Score (VS) below.
Engagement Score (ES): 139
Offer a mouth-watering prize: The competition for attracting your audience's attention is stiff, offering an unbeatable prize like Fazoli's did is a great way to give your brand a leg up on the competition and increase engagement with your digital campaign.
Add a personalized component: Fazoli's increased the likelihood that consumers would continue to come back and engage with their campaign by incorporating a personalized counter that kept track of how many consumers entered the contest using the personal link someone shared. Consumers were encouraged to continue visiting their personalized counter to see how many new sweepstake entries they received.
Have a clear call to action: One of the easiest ways to encourage engagement is to provide clear, specific guidance on how to participate in the campaign. Fazoli's kept the directions for submitting an entry simple and their instructions for how to share and earn more entries was short and concise. Lengthy directions or multiple calls-to-action may increase confusion preventing consumers from participating.
Virality Score (VS): 366
Encourage sharing for multiple entries: A best practice we've mentioned before to increase sharing is to reward consumers that share the campaign with more chances to win. Fazoli's rewarded consumers with additional entries for every person that signed up for the sweepstakes using the personalized link they shared, encouraging consumers to keep sharing and promoting the campaign.
Create personalized links for sharing: Along with including preloaded share language, Fazoli's gave consumers personalized links to share the campaign with their networks on Facebook, Twitter or Email. Consumers are asking for personalized experiences and they are increasingly more likely to share and engage with content that offers a personalized component. By including a personalized link, Fazoli's was able to create personalized landing pages for consumers to track sign ups from the links they shared.
Unlimited share referrals: Fazoli's chose not to limit the amount of referral entries someone could receive from sharing the campaign. By allowing unlimited referral entries, Fazoli's is encouraging consumers to continue sharing to increase their chances of winning.
To learn more about our Digital Campaign Index and how optimizing engagement and virality can help kick your digital media strategy to the next level, download our Digital Campaign Index (DCI) Whitepaper.