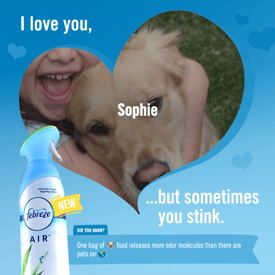 Campaign Goals: Generate buzz for the #OdorOdes and inspire consumer participation
Template Used: Fill in the Blank


Instead of dancing around the issue in their latest campaign, Febreze hit it head-on: their product is used for smelly situations. Consumers were asked to embrace that fact by creating an #OdorOde: Using the new fill-in-the-blank template, consumers can upload a photo of something they love (but which stinks) and give it a custom caption. Though it's only been a week since launch, it's already clear that the campaign is making an emotional connection with consumers. Not every brand wants to associate itself with pungent aromas, but all can learn the following lessons:

Nerd out. While uploading her photo, a consumer also gets to pick from one of 16 cool facts, like "If you had a penny for every odor molecule that can be neutralized with a bottle of Febreze, you would be worth more than everyone on Earth combined." The personalization further engaged consumers, and the surprising information emphasized the importance of using Febreze.
Be your baddest self. Odor is a potentially unpleasant topic, yet Febreze transformed it into a strength. They solicited pictures of something that users "love," and most of the content is of food, pets, or kids, which is to say, things that elicit a strong emotional response. The campaign also complements the brand's TV spot and social accounts on Facebook and Twitter,

an

creating a larger #OdorOde narrative for consumers to participate in.
Simple doesn't mean boring. Though millennials with smart phones have been conditioned to snap selfies, not everyone is as eager and able to upload pictures. Because Febreze chose the fill-in-the-blank template, odor lovers could participate just by writing text, making the campaign more diverse and accessible.