Concept: Reveal new content and give chances to win prizes each day to promote new fall apparel

Objective: Encourage consumers to visit garageclothing.com and sign up via emails for the chance to win prizes revealed each day

Digital Campaign Index (DCI) Score: 125

Use Case: Countdown Calendar and Sign Up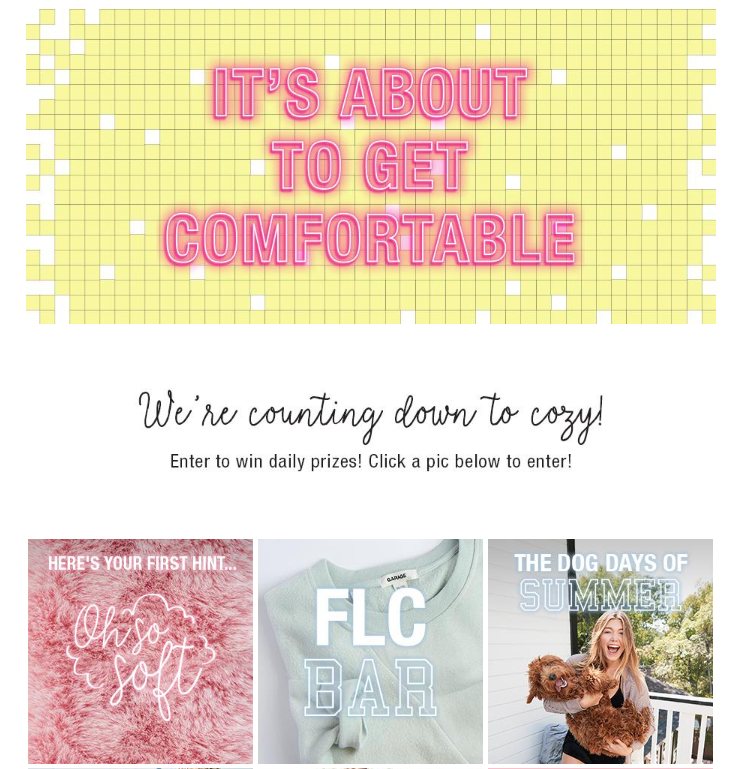 This may be controversial, but when it comes to the seasons, we think that Fall is simply the best. While there are still seven weeks of Summer left, we can't wait for the humidity overload to pass, the leaves to change color, and the temperature to drop so we can curl up and get comfy with Netflix in an oversized sweater.
Garage must be able to read minds, because they launched the ideal pre-Fall campaign to get their consumers excited for comfy fall clothes to post about in their #ilovefall Instagram posts. They launched the "Countdown to Cozy" Giveaway to engage their fans by sharing new products and styling tips and debuting their new Garage shopping app. Their countdown giveaway runs through August 6th, 2017, and the Garage team has done a great job of creating an engaging experience that has kept consumers coming back for more. Their DCI score of 125 is the direct result of the engagement best practices they implemented and an emphasis on social media promotion.
DCI Score Overview: 125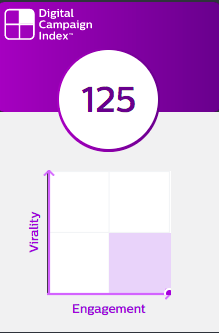 Since the Countdown Calendar launch on July 27th, Garage's giveaway campaign is on track to walk away with a solid DCI score of 125, comprised of an Engagement Score (ES) of 249 and a Virality Score (VS) of 7. This campaign's overall DCI is elevated by its exceptionally high engagement score, which is a result of this campaign's focus on time spent on their landing pages, releasing content and providing multiple opportunities to win in stages.
This DCI Score is the result of several best practices that the Garage team implemented to encourage repeat visits, sign ups, and clicks on their content, including adding a Countdown Calendar, allowing people to submit an entry each day, and engaging campaign content. To optimize engagement, they also kept their calls to action simple and concise.
Garage's "Countdown to Cozy" campaign has an above average engagement score due to the overall experience that the team created -- they went the extra mile to curate and embed a social hub onto its website that showcased the contest and published useful info about their products and Instagram-worthy pictures that kept customers coming back day after day. By investing resources into promoting their Countdown Calendar content across their Instagram, Twitter, and Facebook profiles, they further encouraged their fan base to engage with them daily.
Check out more details on their mid-campaign Engagement Score (ES) and Virality Score (VS) below.
Engagement Score (ES): 249

Add a Countdown Calendar:

Garage increased the likelihood that consumers would stay on their page by incorporating a

Countdown Calendar

that released exclusive deals and new content each day, which encourages consumers to check back, click on the new offers and revisit older reveals.

Enable multiple form entries:

As part of their countdown giveaway, Garage incorporated a sign up form for each prize revealed throughout the campaign -- 12 in total. Consumers can submit a form for each new prize revealed, encouraging repeat website visits through multiple chances to win.

Make sure your content is a fit:

Consumers love to engage with creative, eye-catching content -- one of a brand's biggest assets when encouraging an audience to engage with an activation. Garage created compelling, relevant content that elevated their campaign and kept their consumers hooked from moment they arrived on their website.
Virality Score (VS): 7

Socialize your campaign:

To get people excited for their "Countdown to Cozy" campaign, Garage invested considerable resources in promoting their campaign across their social media channels, encouraging people to visit and enter the giveaway. Excited consumers retweeted and shared the campaign with their networks, increasing the earned reach of the campaign.

Encourage sharing for multiple chances to win:

A simple way to increase sharing is to reward consumers that share the campaign with another chance to win a prize. As an extension to their current campaign, Garage might also consider adding this component to increase the number of people sharing their Countdown Calendar content.

Customize share language:

Garage included customized default language that pre-populates their campaign's sharing widgets for each available social channel, including Facebook, Pinterest, Twitter and email. Pre-populated share language is a quick way to lower the bar for consumers to share on social networks or emails.
The Garage team's primary objective for this campaign was to drive engagement, and they did just that! This campaign is optimized to guide consumers to the campaign website and keep them engaged once there. The team might also consider expanding on their "Countdown to Cozy" campaign with a photo or video campaign that encourages consumers to share how they are styling themselves for Fall using their hashtag #Iweargarage.
To learn more about the Garage "Countdown to Cozy" Giveaway, visit their campaign here.
Learn more about the Wyng Digital Campaign Index here.