Concept: For British Pie Week, Jus-Rol is challenging the British public to submit their best recipes to find the next best pie for the nation.

Objectives: Inspire people to bake with Jus-Rol and share their content across social. Leverage a creative, interactive microexperience to collect first-party data.
DCI Score: 341

Use Case: UGC Contest with Voting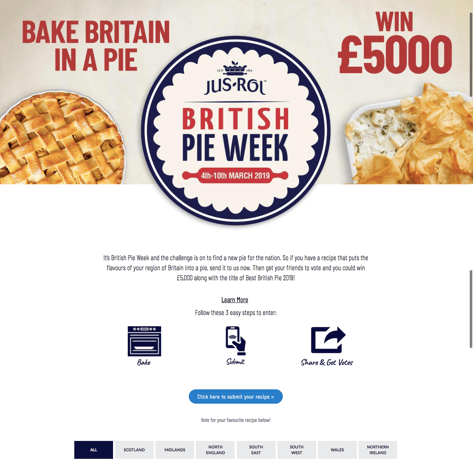 The Great British Bake Off took the world by storm, inspiring anyone will a penchant for a good bake to pick up a rolling pin and give pie baking go, in the hopes of creating a Mary Berry or Paul Hollywood approved recipe. Jus-Rol is giving all home bakers the chance to live out their Great British Bake Off fantasies with their own British Pie Week Challenge.They will be able to compete for the chance to be crowned Queen or King of Pies by sharing their own best bakes to be voted on by friends, family, and pie-enthusiasts.
The process for entering your best pie recipe is simple:
Bake your best pie and take a picture of it.

Go on www.jusrol.co.uk/britishpieweek and fill in the form to submit your picture along with the recipe.

Get your friends and family to vote for your pie by sharing your entry on Facebook, Twitter or Pinterest. Or they can visit www.jusrol.co.uk/britishpieweek and search for your pie to vote!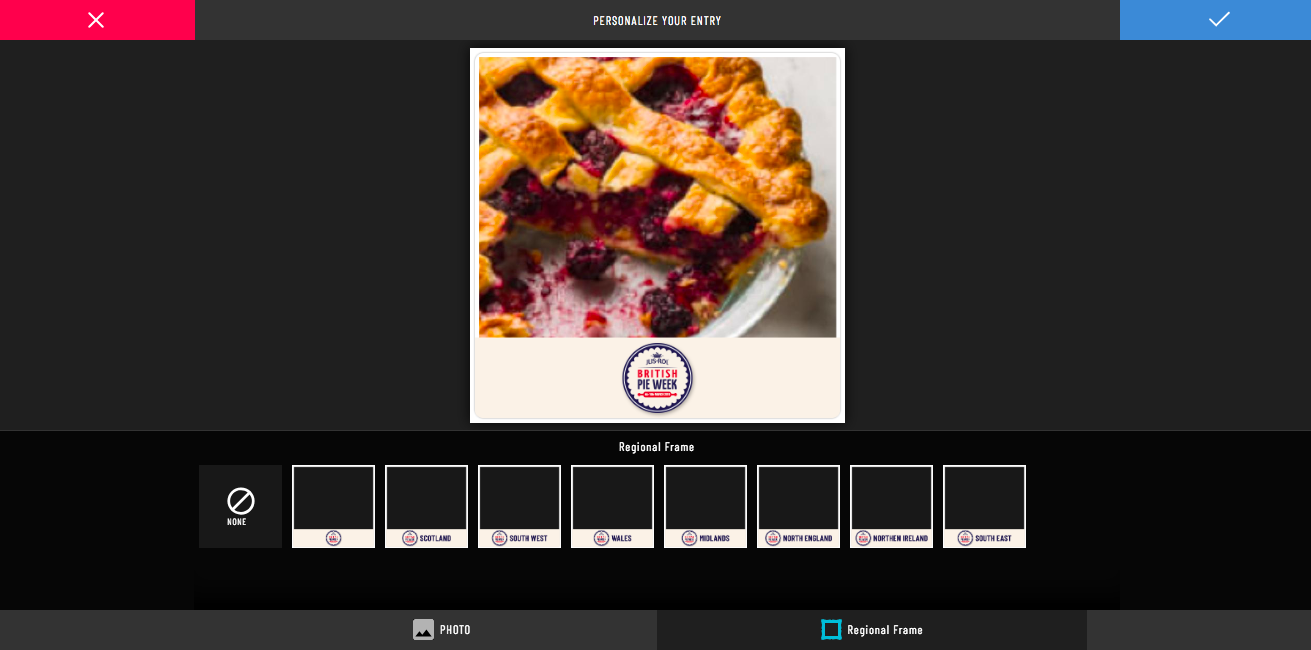 Check out their campaign and learn more about British Pie Week here.

DCI Score Overview

Jus-Rol's pie baking recipe contest is performing extremely well to date, with a DCI Score of 341, comprised of an Engagement Score (ES) of 213 and a Virality Score (VS) of 469. Their contest is a perfect example of how a brand can leverage voting capabilities to increase organic social sharing.
Drive sharing via voting

. One of the easiest tools brands have in their arsenal for encouraging organic sharing and earned reach without much spend is to add a voting component to their campaigns. Jus-Rol adding a voting component and breaking their winners up into regions was a savvy way to get fans baking and their social networks sharing, liking, and commenting.

Enable multiple options for sharing

. Campaign participants and viewers can share their favorite recipes in one of multiple ways, including Pinterest, Twitter, Facebook and via email, facilitating the share process with family and friends and driving earned reach.

Allowing one vote per day

. Many campaigns limit consumers to vote once throughout the duration of the campaign, but allowing one vote per consumer, per day, helps to not only drive repeat traffic, but also repeat content and campaign-level sharing.
To see these best practices in action, check out Jus-Rol's microexperience here.