Concept: To spread awareness and combat the stigma around HIV, Gilead launched a co-created content photo campaign to inspire others to share messages of change.
Objectives: Inspire others to share and foster ongoing innovation, support research, and help address stigma around HIV/AIDs during HIV/AIDs Awareness Month in December.
DCI Score: 109
Use Case: Auto-Frame, Photo Lab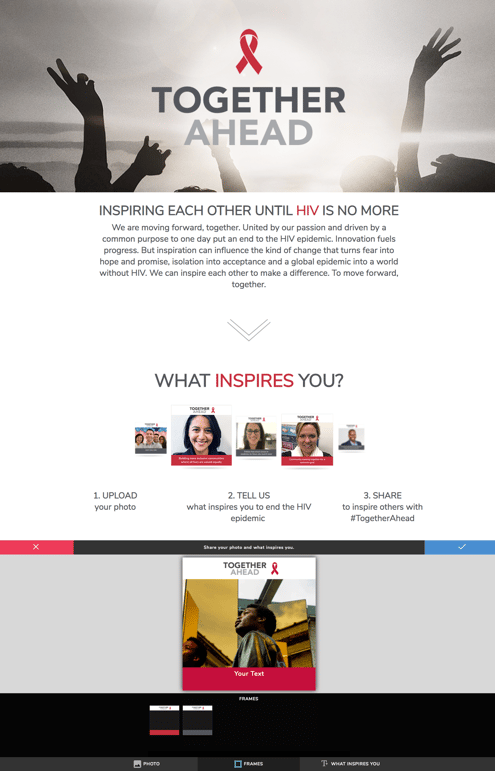 Gilead is committed to making HIV – and its impact – a part of the past. By connecting with communities, empowering patients and providing resources and medicines to those in need all around the world, they are working everyday to move ahead, together.
During HIV/AIDs Awareness Month this December, Gilead launched a co-created content experience to inspire people to make a difference in the fight against HIV. As Gilead says, "inspiration can influence the kind of change that turns fear into hope and promise, isolation into acceptance and a global epidemic into a world without HIV."
Using the campaign hashtag, #TOGETHERAHEAD, they are hoping to end HIV, by bringing together communities to inspire others as we work to foster ongoing innovation, support research, help address stigma and find a way to end the HIV epidemic.
Check out their "Together Ahead" campaign here.
DCI Score Overview: 109
Gilead built a campaign rooted in engagement, by utilizing their online networks to drive traffic to their campaign page, and boost photo submissions. Check out more details below on best practices you can incorporate into your digital microexperiences to increase Engagement and Virality.
Engagement Score
Socialize your brand's mission and values.

Both giving and user generated content can be highly contagious. People are more likely to give a donation, sign a pledge or upload a selfie if they see someone they know doing it or if they believe in the cause and mission behind the campaign. Gilead's "Together Ahead" campaign is a perfect example of how powerful emotion can be for encouraging participation and sharing.

Reinforce your brand story.

As a marketer, you spend a lot of time understanding what your brand stands for and how it is perceived by your consumers. Adding a cause to your marketing strategy can bolster your brand story, contextualizing what your brand stand for to consumers, helping them to engage with your brand in new and more authentic ways.
Virality Score
Socialize your campaign

. Making use of your social networks is a smart way to facilitate sharing, likes, and comments from your audiences on social. Tying your digital activations to live events is also a great way to boost sharing and participation.
To learn more about Gilead's "Together Ahead" program or how you can support the work they are doing to help put an end to HIV, visit here.