Concept: Encourage brand engagement through a music focused sweepstakes leveraging sign-up forms and a photo hashtag submissions.
Objectives: Leverage a social microexperience to acquire new first-party data opt-in contacts/emails, create a deeper relationship and lasting impression with fans.

Use Case: Sweepstakes + Sign Up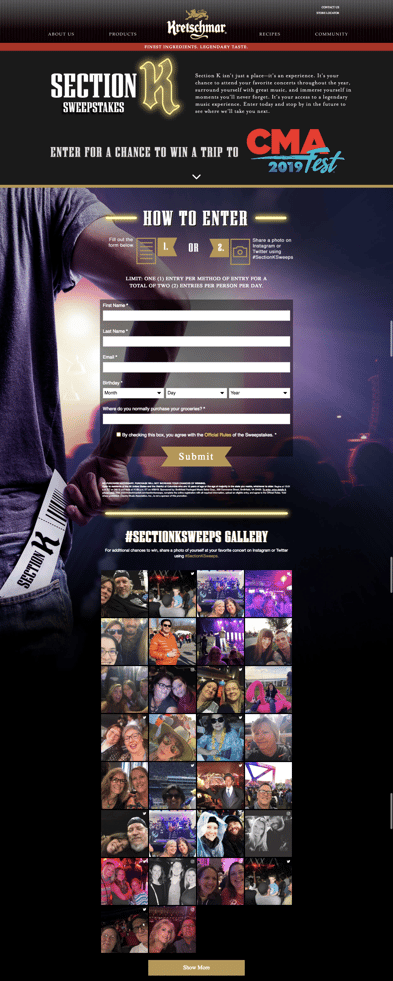 As Kretschmar Premium Deli points out, Section K "isn't just a place -- it's an experience." Kretschmar created Section K to offer their fans the chance to attend their favorite concerts throughout the year. The campaign is a unique experience providing their fans multiple chances to surround themselves with great music and immerse themselves in live moments they will never forget.
Kretschmar is capitalizing on multiple music events, including CMA Fest 2019, to offer their fans these exclusive experiences, and using engaging sweepstakes and UGC campaigns to select the lucky winners. You can check out their latest sweepstakes campaign HERE, which is helping Kretschmar capture valuable first-party data, whilst also building relationships with their fans.

DCI Score Overview

Kretschmar's campaign is off to a great start and as their campaign runs (fans can submit entries until April 30), their DCI Score will be a combination of an Engagement Score (ES), which is a calculation of clicks, form entries, content entries, click thrus, and time spent, and a Virality Score (VS), which calculates social and content shares, earned reach and visits.
Consistency is key.

Kretschmar's concept for the campaign was based on the lifestyle that they project in their products and their brand's persona. It's something we often say here at Wyng, but consumers want to interact authentically with brands, and they can smell a fake from a mile away. Keep your campaigns authentic and in-line with the vision you have for your brand and consumers will get excited to engage and share.

Collect submissions using a hashtag.

By collecting submissions across Instagram and Twitter using only a hashtag, Kretschmar lowered the bar for entry, encouraging more consumers to share their submissions. Kretschmar expanded the potential reach of their campaign by also including the option to enter via their campaign landing page, a great choice to activate fans that may not be the most active on social media.

Embed on your brand website.

Kretschmar embedded their sweepstakes on their main website, which not only kept consumers on the site, but also encouraged them to learn more about the brand and products they offer. Brands that embed a campaign on a larger website often see increased engagement through additional clicks and time spent on site.
To see these best practices in action, check out Kretschmar's microexperience here.