Concept: Encourage brand engagement through a triple touchpoint sweepstakes leveraging sign-up forms, Spotify, and Photo Hashtag submissions.
Objectives: Acquire new opt-in contacts/emails, create a deeper relationship and lasting impression with fans.
DCI Score: In Progress
Use Case: Sweepstakes, Suggest a Song with Spotify, Social Content Stream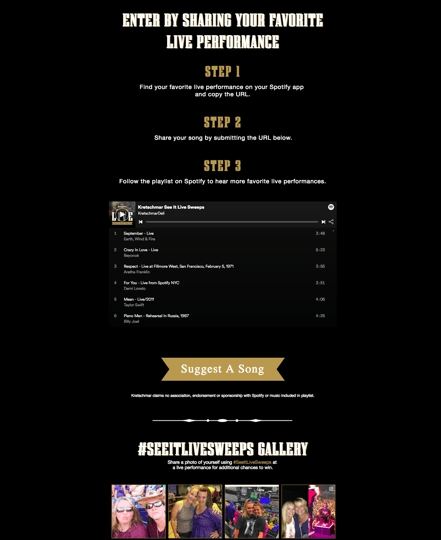 Kretschmar Deli is asking fans of their products to "See It Live" in their latest triple threat sweepstakes that takes advantage of a traditional sign up form, hashtag photo entry, and entry using Spotify. Kretschmar is stacking their campaign up to be a success by giving fans all of the options for entering and potentially scoring themselves a year of free live concert tickets.
Giving fans multiple options to participate ensures that Kretschmar will cover the most ground and receive participation from all-types of consumers. You can check out their full triple threat sweepstakes campaign HERE.
DCI Score Overview: In Progress
Kretschmar's DCI score will be a combination of an Engagement Score (ES) and Virality Score (VS). Leveraging multiple Use Cases, Kretschmar's campaign is banking on hitting fans across platforms to increase visits and entries.

Check out more details below on best practices you can incorporate into your digital campaigns to increase Engagement and Virality, as well as drive in-store purchases using online channels.

Engagement Score (ES)
Tap into your fans' interests.

It is safe to say that most people have strong opinions when it comes to music. By launching a Spotify Suggest a Song campaign,

Kretschmar

aimed to tap into their consumers' own musical interests and their desire to show off and share their personal taste in music. It is an added bonus that by doing so, they are also entered to win tickets for a year.

Stick to what you know

.

Kretschmar

's concept for the campaign was based on the lifestyle that they project in their products and their brand's persona. It's something we say often here at Wyng, consumers want to

interact authentically with brands

, and they can smell fake sentiment from a mile away. Keep your campaigns authentic and in-line with the vision you have for your brand.
Virality Score (VS)
Choose your hashtag wisely.

Having a hashtag linked to your campaign is the first step to encouraging sharing, and the second step is having a hashtag that your consumers will actually want to share. When choosing a hashtag make sure it feels original and reflects the types of hashtags your fans are already using and would be likely to share even if they weren't tied to a brand campaign.

Collect submissions using a hashtag.

By collecting submissions across Instagram and Twitter using only a hashtag,

Kretschmar

lowered the bar for entry, encouraging more consumers to share their submissions.

Kretschmar

expanded the potential reach of their campaign by also including the option to enter via their campaign landing page or by sharing a song using Spotify, a great choice to activate fans that may not be the most active on social media.
You can view the submissions, as well as the structure, for their triple touchpoint sweepstakes here.