Concept: Launch a Cause Marketing program to support Meals on Wheels America, and reward consumers with Libby's can goods during Thanksgiving.

Objective: Promote Libby's fruit and vegetable products, and encourage fan participation to raise support and awareness for the Meals on Wheels program.
DCI Score: 297

Use Case: Cause Marketing + Sweepstakes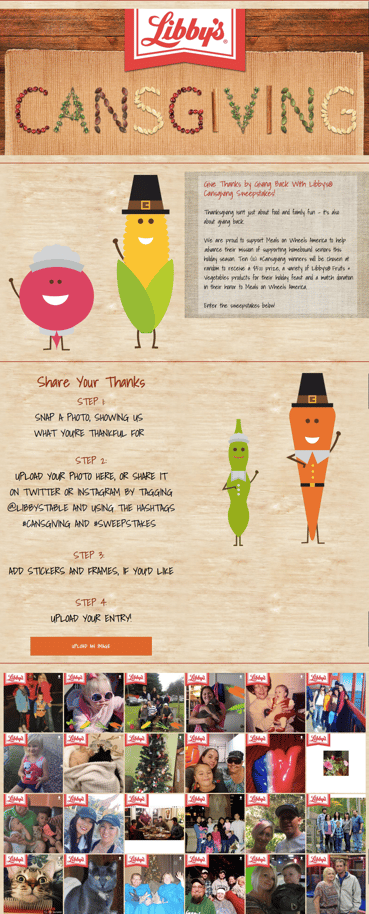 Thanksgiving brings to mind family, good food, helping others and investing in a pair of pants with an extra strong elastic waistband. Thanksgiving also kicks off the official start of the winter holiday season, which has the potential to increase sales, raise the visibility of your brand to new and existing customers, and build brand affinity ahead of the new year. While the holidays are prime shopping time for retailers, any brand can benefit from Thanksgiving and holiday marketing ideas.

For Libby's, Thanksgiving isn't just about food and family fun, or the official start of the winter holiday shopping season, it's also about giving back. To support Meals on Wheels America, Libby's is asking fans to share what they are thankful for this Thanksgiving for the chance to win a $500 prize and a variety of Libby's products as part of their "Cansgiving" Sweepstakes. Libby's will be giving a match donation to Meals on Wheels in honor of the 10 winners of the sweepstakes. Fans can submit their photos via Twitter, Instagram, or Libby's campaign microsite.

DCI Score Overview: 297

Libby's sweepstakes' DCI score is a combination of an Engagement Score (ES) of 325 and Virality Score (VS) of 269.
Check out more details below on best practices you can incorporate into your digital campaigns to increase Engagement and Virality, as well as drive in-store purchases using online channels.
Engagement Score (ES)
Reinforce your brand story.

As a marketer, you spend a lot of time understanding what your brand stands for and how it is perceived by your consumers. Adding a cause to your marketing strategy can bolster your brand story, contextualizing what your brand stand for to consumers, helping them to engage with your brand in new and more authentic ways.

Consumers are looking to engage with brands that share their passion.

According to a Cone Communications study, 85% of consumers would switch brands to one associated with a cause they are also passionate about. This number according to Cone is even higher for millennial consumers.
Virality Score (VS)
Add a donation component to sharing.

Libby's campaign is the perfect example of how brands can inspire their consumers to engage and share UGC by adding a donation element to participating in the campaign. As much as rewards and prizes can be incentives for consumers to participate in a campaign, they are equally as likely to get excited about participating to do good for a cause they believe in.
Brands that run cause marketing campaigns receive a boost in sales and brand affinity, and the nonprofits that brands partner with also get a needed boost in funding and publicity. It is a perfect pairing where everyone walks away a winner, especially the communities and individuals that benefit from work of nonprofits around the globe.