Concept: Launch a fan favorite promotion to encourage new sign ups through a beauty kit giveaway.
Objective: Promote L'Oréal's beauty products.
Digital Campaign Index (DCI) Score: 29
Use Case: Fan Faves and Sign Up
Big Little Lies and The Handmaid's Tale may have been the big winners at the 2017 Emmy Awards, but L'Oréal Paris kept the glitz and glamour going with their enticing 2017 Emmy Awards Fan Favorite Beauty Kit giveaway.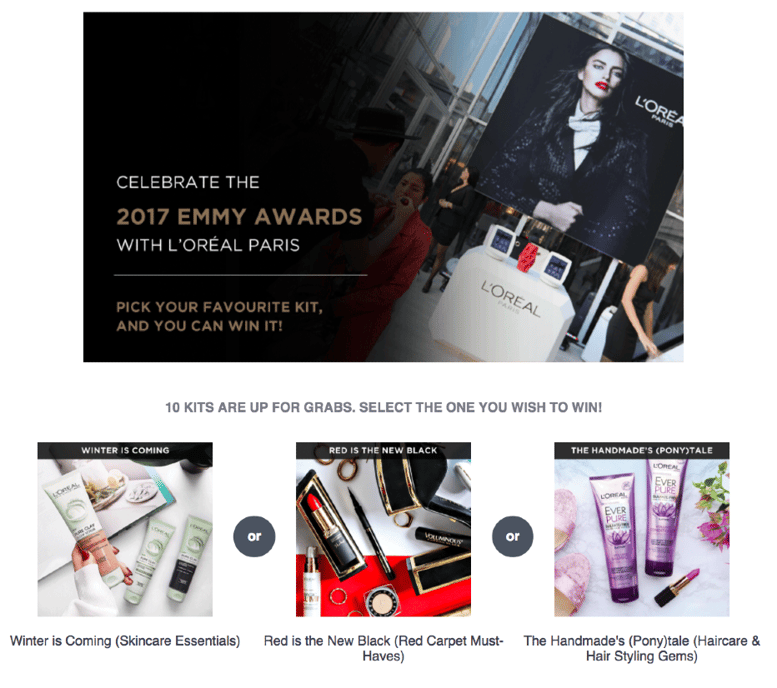 Leading up to and following the Emmy Awards, L'Oréal Paris gave their consumers the chance to pick their favorite beauty kit for the chance to win their selection. They launched a fan favorite promotion featuring three different beauty kits, with Emmy-appropriate names, including: Winter is Coming (Skincare Essentials), Red is the New Black (Red Carpet Must Haves), and The Handmade's (Pony)tale (Haircare and Styling Gems). After selecting their favorite, consumers filled out a form to submit their entry for the chance to take home one of the above coveted beauty kits.

L'Oréal timed their promotion just right and put together a stellar cast of use cases and giveaways that had consumers channeling their inner Susan Lucci!
DCI Overview: 29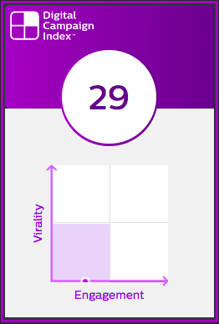 L'Oréal Paris' DCI score is a combination of an Engagement Score (ES) of 53 and Virality Score (VS) of <25. Their promotion's core objective was engagement and they utilized use cases and tactics that got their consumers excited and willing to sign up and participate.
Check out more details below on some best practices we recommend to help you increase your digital campaigns Engagement and Virality Scores.
Engagement Score (ES): 53
Offer your consumers their version of an Emmy. Many brands will offer their customers generic rewards: discounts, free shipping, and free products (not to say consumers don't love these things – as a consumer, we do!). But, catering your promotion rewards to your fans interests will increase participation and engagement, which is exactly what L'Oréal did with their tailored television themed beauty kits.
Pair multiple campaign use cases. Using multiple different types of use cases is smart way to increase engagement and the functionality of a campaign. By using the fan faves and sign up components, L'Oréal created a more engaging promotion for their consumers.
Integrate your campaign with your internal marketing platforms. Integrating your campaign with your internal marketing and sales platforms (e.g., Salesforce, email integrations) is a great way to continue to engage and reengage consumers that participated in a campaign.
Virality Score (VS): <25
Build your campaign around an event. L'Oréal Paris' campaign was built around the Emmy Awards, which is a great tactic for inserting your brand into a larger moment and connecting your campaign to the types of content your consumers are already searching for and sharing.
Have consumers share their favorites. After cats and wine memes, beauty tutorials, both professional and amateur may be the most popular type of content popping up across social media. For beauty brands, incorporating a sharing element, either a campaign hashtag, photo gallery, or refer-a-friend component, is a great way to increase the virality of a campaign.
L'Oréal Paris made great use of multiple campaign types and email integration to engage new consumers and lay the groundwork for reengaging consumers in future campaigns. Overall, their 2017 Emmy Awards Beauty Kit promotion was a primetime hit!
Learn more about the Wyng Digital Campaign Index here.