Concept: To showcase all of their new and existing flooring options, Lumber Liquidators launched a stylish 12 days of LL countdown calendar.
Objectives: Offer relevant promotions to encourage purchase; highlight key products and holiday offerings.
DCI Score: In-Progress
Use Case: Countdown Calendar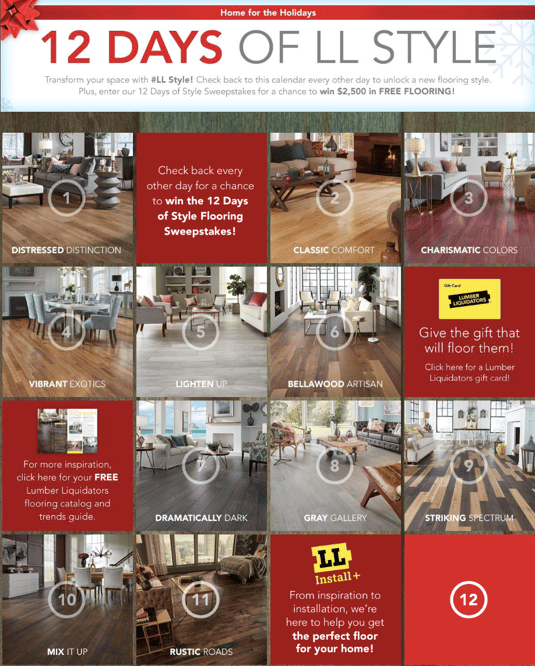 Lumber Liquidators is celebrating the holidays by launching their "12 Days of LL Style" countdown calendar. Featuring a combination of products and special giveaways, fans have the chance to win each day, with a new reveal each day on their homepage.
Aside from sharing inspiration for fans to bring into their interior decorating in the new year, the "12 Days of LL Style" also gave the Lumber Liquidators team the perfect opportunity to direct and reward consumers for visiting and engaging with their holiday microexperience.
Check out their "12 Days of LL Style" microexperience here.
DCI Score Overview
Lumber Liquidators built a campaign rooted in engagement, by utilizing their central webpage to drive traffic and boost clicks. Check out more details below on best practices you can incorporate into your digital microexperiences to increase Engagement and Virality.
Engagement Score (ES)
Add a Countdown Calendar

. Lumber Liquidators increased the likelihood that consumers would continue to come back and visit their experience page by incorporating a Countdown Calendar that released exclusive deals and new content over the course of 12 days leading up to Christmas. Spreading out the release of content and prizes encourages consumers to check back, click on the new giveaways and revisit older reveals.

Your Microexperience Should be the Star.

Your social and advertising activities should all lead to one central experience for your consumers to engage with. Today's marketers recognize the need to constantly build and nurture their audiences and many are doing so by driving audiences downstream to immersive digital campaigns.
Virality Score (VS)
Socialize your campaign. To get people excited for your microexperience it is important to invest a portion of your resources in promotion across social media channels, encouraging people to visit and participate. Leveraging an interactive microexperience is a great way to extend and optimize the spend you do put into social and digital promotion for your brand. The best gift of all is earned media.
The Lumber Liquidators team's primary objective for this campaign was to drive engagement, and they did just that! This campaign is optimized to guide consumers to the experience website and keep them engaged once there. Embedding an experience at point-of-purchase is a smart way to build visibility for new and existing products and guide consumers down the funnel to purchase.