Campaign Goals: Generate awareness for Red Nose Day, a campaign dedicated to raising money for children and young people living in poverty, and encourage consumer participation
Template: Flex Grid Gallery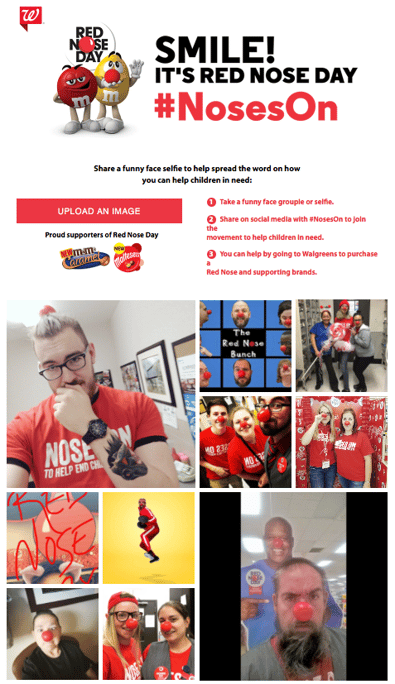 M&M's and Walgreens are on a mission to raise awareness, money and hopefully generate lots of laughs for the third annual Red Nose Day, a social media campaign dedicated to raising money for children and young people living in poverty. Throughout the six-week campaign, people of all ages are encouraged to come together and upload their zaniest photo wearing the campaign's iconic Red Noses to the campaign's flex grid user generated content gallery. M&M's and Walgreens are giving consumers the chance to have a little fun while contributing to a great cause – and in the process hit on three best practices to keep in mind when planning a digital campaign.
Get into a committed relationship

. Shopper marketing is no longer just coupons and endcap displays (you can read more about that

here

in our Shopper Marketer eBook), and likewise, brands and retailers are no longer distinct entities. Today, brands and retailers can share both a traditional and a digital space, something M&M's took advantage of when partnering with Walgreens on the Red Nose campaign. M&M's committed to their relationship with Walgreens by creating a Flex Grid Gallery that promoted both their retailer and the brand. Walgreens reciprocated and gave M&M's some extra facetime in store with their customers as part of their Red Nose displays – partnership bliss!
Promotion, promotion, promotion

. As the old saying goes, "If a campaign launches in the digital forest and nobody's around to hear it, does it make a sound?" Okay, that may not be a real saying, but it gets at a point we always stress to brands and agencies: promotion is key to any campaign's success. Social media was queen in this campaign, with extensive promotion on social media, Buzzfeed (check out the video

here

) and through top-tier influencers and celebrities.
Tie your campaign to an important cause

. Both giving and user generated content can be highly contagious. People are more likely to give a donation or upload a selfie if they see someone they know doing it. Consider it positive peer pressure! M&M's and Walgreens took advantage of this to get their consumers to both donate to the Red Nose campaign and participate by uploading their own #NosesOn selfie for a good cause. Emotion is a basic human instinct and a powerful tool for encouraging campaign participation.
This year, the Red Nose Day campaign will culminate in a night of special television programming celebrating Red Nose Day on May 25 starting at 8 p.m. on NBC, an event that is sure to raise considerable more donations and even more red nosed selfies.