Concept: Launch an out-of-the-box co-created content sweepstakes to promote Oracle's Intelligent Chatbot Developer offering.
Objective: Generate awareness for Oracle's Chatbot capabilities, leverage interactive photo lab technology to boost consumer sharing and engagement.
DCI Score: 302
Use Case: Photo Lab + Sweepstakes
National brand campaigns, seasonal promotions, product launches, sampling programs, shopper marketing partnerships, co-branded and integrated marketing campaigns — all are moving online. They're taking the form of immersive and shareable microexperiences on landing pages, microsites, website embeds, and native ad formats like Facebook Canvas and Snap Ad + Web View, where they can be measured, compared and optimized.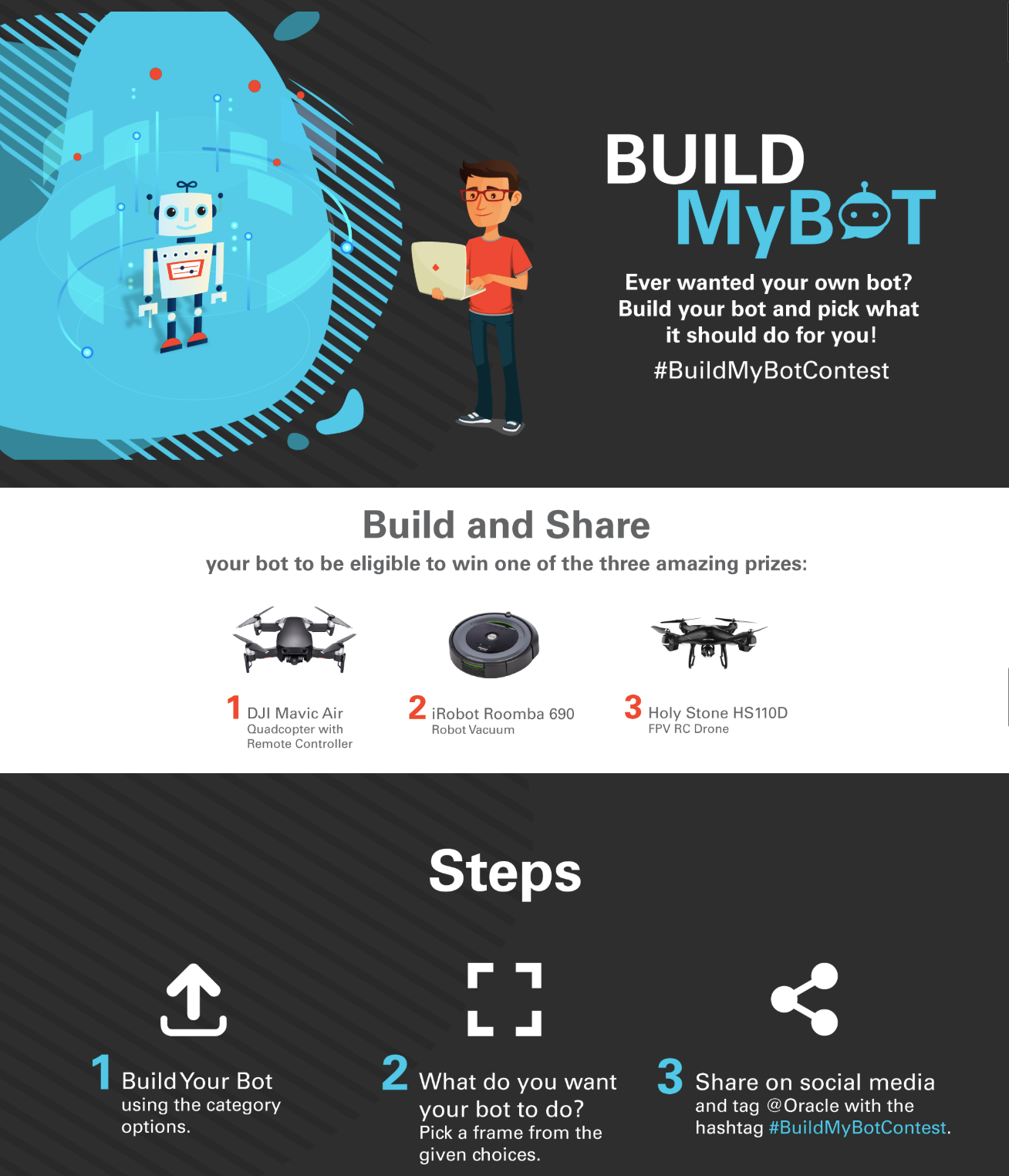 If there is one brand that understands digital, it is Oracle, and their latest microexperience shows they know what they are doing. Recognizing the popularity and buzz around artificial intelligence, specifically bot technology, the Oracle team launched an out-of-the-box co-created content design sweepstakes to promote their Intelligent Chatbot Developer offerings.
Using an interactive photo lab, technical and non-technical participants will be able to design their own bot, for the chance to win a variety of high-tech bot prizes, including an iRobot Roomba or DJI Mavic Air Quadcopter. Participants are able to choose their bots design, as well as their function, using Oracle's digital bot builder. To enter, they are then encouraged to share their designs across their social accounts using #BuildMyBotContest. You can check out their co-created content builder below, which includes a combination of bot parts as stickers and branded frames.
Check out their campaign HERE to design your own bot.
DCI Overview
In just a few short days since launching, Oracle's campaign has already proven to be a success and resonating with their fans, with an above average DCI score of 302. Their exceptional performance is made up of an Engagement Score (ES) of 227 and Virality Score (VS) of 377.
Check out more details on some best practices any brand can incorporate into their next campaign to optimize for engagement and virality.
Take advantage of improved tech features. To build and launch their bot design sweepstakes, Oracle took advantage of the Wyng Microexperience Platform to enable consumers to easily create custom designs using the functionality of our Photo Lab. Participants were able to seamlessly select their sticker options to build out their bot and share seamlessly to their social channels. The approach enabled Oracle to design a unique experience with functionality that allowed anyone to participate, whether they had social profiles or not.
Include a hashtag for entry. A simple way to increase sharing and participation is to enable entry submission using a campaign hashtag on social.
It all comes down to the framing. Oracle added a small custom branded video frame that featured their logo as overlays for the bot designs submitted. Branded frames are a great way to tie content being shared back to your brand and campaign.
Add a photo gallery. The Oracle team increased the likelihood that participants would stay on their page by incorporating a scrolling photo gallery of the bot submissions, increasing time on site and clicks on the latest submissions.
Learn more about how brands, like Oracle, are using first-party data to methodically convert their unknown audiences into known contacts — and their formula for success HERE.