Concept: Engage fans of Real Country on USA with a digital Shania Twain paper doll microexperience based on her on-air outfits and style.
Objectives: Encourage fans of the show to design and share co-created content across social platforms to promote Real Country and USA.
DCI Score: 95
Use Case: Photo Lab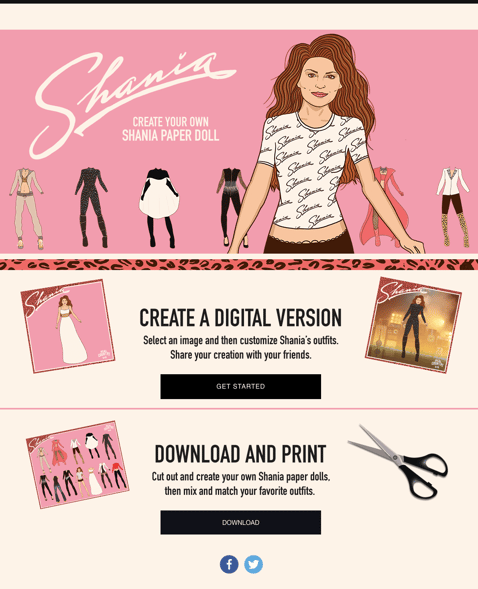 REAL COUNTRY is a new country music showcase series featuring multi-platinum, five-time GRAMMY Award®-winning trailblazer Shania Twain, ACM Award-winning and platinum-selling singer-songwriter Jake Owen and multi-platinum, GRAMMY Award®-winning country music legend Travis Tritt, all helping to find country music's next breakout acts on USA.
To get fans involved and promote Shania Twain's role on the show, USA created a custom, microexperience with a digital twist on a classic, the paper doll. The USA team designed a digital Shania Twain paper doll, including a variety of interchangeable digital outfit choices that can be swapped in and out, resized, and mixed and matched without the need for paper or a good eye and steady hand with scissors.
Fans are able to download their completed doll, create another, and share their favorites across social media platforms with friends and family.
Check out USA Network's Shania Paper Doll here.
DCI Score Overview
USA Network's microexperience reflects several best practices that contribute to DCI performance, including both Engagement Score (ES) and Virality Score (VS). The Shania Paper Doll campaign is also a great example of how a classic non-digital activity can be updated for an online platform:
Update a classic. Rethinking how classic activities and experiences can be converted to digital is a great way to give fans a fresh take on something they love. USA Network updated the classic paper doll for a fun, engaging digital play on an activity that consumers love and are familiar with.
Leverage influencers and celebrities. If your brand has the chance, leverage influencers and celebrities through microexperiences to drum up engagement and earned media. Until the influencer and celebrity bubble bursts, the extensive reach and loyal fan bases can prove successful for brands and new campaigns.
Embed on your brand website. Microexperiences are inherently omnichannel, making it easy to link, embed additional content, and direct your consumers to engage with multiple brand touchpoints. One of the easiest ways to do this is to embed your microexperience on your brand.com site, which should be your hub for all content and marketing activities.
To see these best practices in action, check out USA Network's Shania Paper Doll microexperience here.