Concept: To celebrate how special our moms are to us all, Shutterfly launched a Mother's Day Photo Lab sweepstakes.
Objective: Drive brand visibility during Mother's Day; facilitate sharing between Shutterfly and their fans.
DCI Score: 147
Use Case: Sweepstakes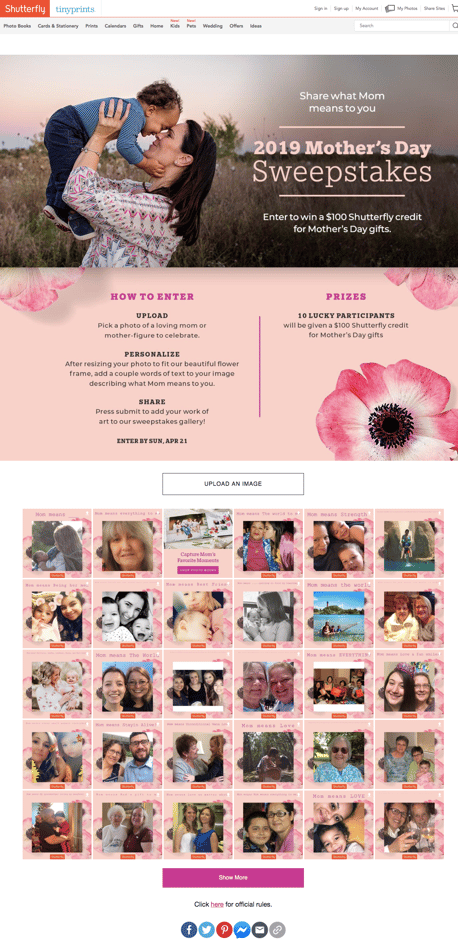 For many marketers it may feel like Mother's Day has already come and gone, with most brands beginning their Mother's Day planning at the start of the new year, but there is still plenty of time to quickly develop and launch engaging microexperiences that will give your brand a leg up on the competition this Mother's Day.
If you are in need of inspiration, Shutterfly has built and launched a timely sweepstakes for Mother's Day that has caught the attention of their fans, sparking both engagement and sharing ahead of the May holiday. Shutterfly launched a streamlined Photo Lab featuring a custom brand frame and have asked their fans to share what their moms mean to them for the chance to win a $100 Shutterfly shopping credit for Mother's Day gifts.
One quick scroll through their user-generated content gallery is enough to know that Shutterfly has struck a chord with their fans based on the authentic posts they are sharing, which show not only heart for their moms, but also for Shutterfly.
Check out their campaign HERE for some Mother's Day inspiration.
DCI Overview
Shutterfly's DCI score of 147 is a winning combination of engagement and virality, with well-rounded Engagement (ES) of 141 and Virality (VS) of 153 scores.
Check out more details on some best practices any brand can incorporate into their next sweepstakes to optimize for engagement and virality.
Leverage a moment. Leveraging a moment that many consumers are drawn to – a holiday, event, or even an emotion, is a great way to boost engagement and ensure that your campaign is timely and relevant. By giving consumers the chance to interact or showcase how they are living or experiencing these moments, brands can organically be part of the larger conversation.
Let your consumers create and share. Shutterfly didn't need to produce expensive new content, instead, the brand turned to their consumers who are already online creating, sharing and acting as unofficial brand ambassadors every time they snap a photo or upload a video. Giving your fans the opportunity to create and share their personal stories and content with your brand can boost sharing and brand affinity. A real win!
Enable multiple options for sharing. Shutterfly made a great choice by enabling their campaign participants the ability to share entries in one of multiple ways, including Twitter and Facebook, facilitating the share process and driving earned reach. When enabling share functions, also make sure your brand is adding trackable links to help retarget in the future.
Find more inspiration for your Mother's Day and spring and summer campaigns HERE.