Concept: Launch a timely, fan favorite sweepstakes to support the brand's "Prep For All" platform and encourage new email sign ups.
Objective: Acquire new emails to build out their CRM database; learn how the Sperry audience interprets prep style.
Use Case: Sweepstakes + Fan Favorites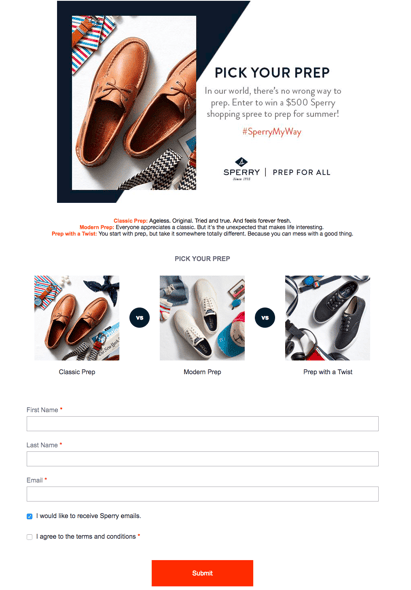 As Sperry points out in their latest online sweepstakes, there's no wrong way to prep. From the Classic Prep, ageless and original, that will feel forever fresh, to "Prep with a Twist, where an unexpected edge is what makes style interesting.
Until June 11, 2018, fans of Sperry will be able to choose their preferred prep style, from Classic, to Modern, to Prep with a Twist, as part of their "Pick Your Prep" Sweepstakes. For submitting their fan favorite style, consumers will be entered for the chance to a $500 Sperry shopping spree. The sweepstakes comes at the perfect time to prep for summer vacations, boating trips, and beach excursions. Sperry will be giving fans one entry during the sweepstakes period, so make sure to head over to their campaign here to pick your fav prep style before it's too late!
To learn more about some general tips and recommendations that all brands can include in their campaigns to drive engagement and virality, keep reading below!
Engagement Score (ES)
Combine components for a more engaging experience.

Combining campaign components can help streamline the submission process, but also increase opportunities for engagement, facilitating more time spent on site through different functionalities and content. Combining components can help brands easily execute and bring user generated content into their marketing and digital activities.

Integrate your campaign with your internal marketing platforms.

Integrating your campaign with your internal marketing and sales platforms (e.g., Salesforce, email integrations) is a great way to continue to engage and reengage consumers that participated in a campaign.

Reward participation.

Sperry could have easily left their campaign as a fan favorite digital ask, but to entice their fans, they added a potential reward for selecting their fav prep style. An extension to consider, would be to offer a prize, and provide a separate incentive for a visit to your brand's website or when making a purchase. For example, after entering for the chance to win a gift card, consumers may also receive 10% off their next purchase or free shipping.
Virality Score (VS)
Build your campaign around seasonal events. Sperry's campaign was built around the upcoming summer months, which is a great tactic for inserting your brand into a larger moment and connecting your campaign to the types of content or products your consumers are already searching for. Check out more summer seasonal tips in our Spring and Summer Campaign Lookbook here.
Have consumers share their favorites.

After cats and wine memes, beauty tutorials, and the occasional accident, fans love to share their favorite outfits or outfit inspiration. Adding an additional UGC component to have fans share their summer looks through either a campaign hashtag, photo gallery, or refer-a-friend component, is a great way to increase the virality of a campaign.
Sperry made great use of multiple campaign components and email integration to engage new consumers and lay the groundwork for reengaging consumers in future campaigns. We can say with confidence their "Pick Your Prep" sweepstakes is a modern classic!