Concept: Launch an engaging and viral social campaign in conjunction with the start of the final season of Teachers on TV Land.
Objectives: Encourage fans of the show to contribute and share content as part of a fun microexperience, helping to build excitement and viewership for the new season.
DCI Score: 228
Use Case: Auto-Frame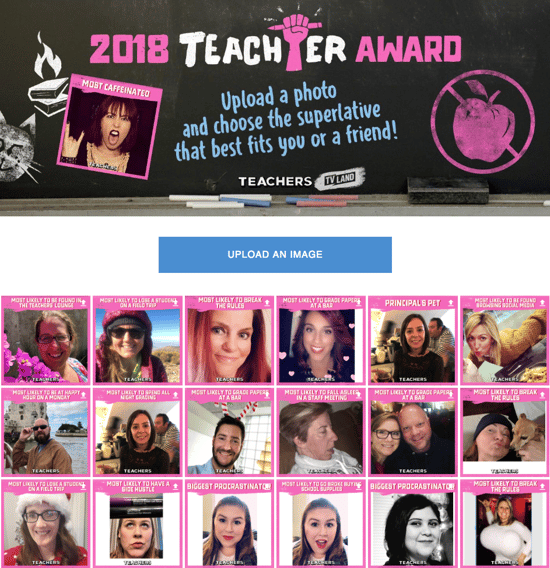 Teachers — the comedy based on the hit web series about five elementary school teachers trying to teach America's youth while navigating their own dysfunctional lives — returns for its final season on January 15.

To generate excitement and viewership for the show, the TV Land team created the 2018 Teacher Awards microexperience, where fans are invited to upload their photo and personalize it by choosing a funny superlative that fits them best. The humorous superlatives, which are predefined by TV Land, range from "Most likely to grade papers at a bar" and "Most likely to butt heads with the PTA" to "Most likely to flirt shamelessly with a parent" and "Most likely to lose a student on a field trip."

After uploading their photo and personalizing it with a superlative, fans are encouraged to share their creation on social media — helping to drive earned media and earned traffic back to the microexperience where the best content is curated and featured by TV Land.

TV Land is promoting the microexperience on Instagram, Facebook and Twitter. Check it out here.
DCI Score Overview
The TV Land microexperience has an impressive DCI score of 228, based on an Engagement Score (ES) of 189 and Virality Score (VS) of 266. Several aspects of the microexperience contribute to the strong Engagement and Virality:

It's funny. Humor can be a great way to grab attention -- and keep it.
It's fun to participate. People enjoy participating in experiences that are fun or entertaining -- no incentive, reward, or prize necessary.
It harnesses the power of UGC and Co-Creation. People love to create and share content with friends, family and followers on social media

.

And co-created content (which includes branded elements, like the auto-framed Teachers logo) carries the brand messaging when it's shared.
Compared to other microexperiences of the same type, the 2018 Teacher Awards had a 14% higher conversion rate and 36% higher share rate than average.
To see these factors in action, check out the 2018 Teacher Awards! You can also watch the trailer, and tune into the show on Tuesdays at 10pm Eastern starting January 15th on TV Land.