Concept: Launch a national campaign and content hub around the hashtag #weneedmore to call attention to the millions of students across the U.S. who lack technology in schools and exposure to careers in the science and technology sector.
Objective: Raise national awareness for the issue and encourage consumers to visit the #weneedmore online content hub.
Digital Campaign Index (DCI) Score: 31
Use Case: Featured Content Gallery
Verizon is driving a national rallying cry behind their simple, but deeply meaningful, hashtag #weneedmore through a multi-channel national campaign aimed at calling attention to the millions of students across the U.S., especially those from underserved communities, who lack technology in schools and exposure to careers in the science and technology sector.
To get the word out, Verizon tapped R/GA to launch an impressive surround sound campaign spanning traditional, social, and digital channels. Verizon teamed up with LeBron James, Drew Brees, and Adriana Lima for a powerful video spot letting kids know that we don't need more basketball stars or models, but more scientists, engineers, mathematicians and tech professionals.
Along with a yearlong series of events and social activations, the #weneedmore campaign is powered by an electric content hub at weneedmore.com. The online content hub pulls in content from across the web centered around the #weneedmore hashtag and mission. The content hub is the campaign's primary destination, with activities directing students, parents and teachers to the hub, where they can view, share and interact with content designed to spark students' curiosity and interest in science and technology.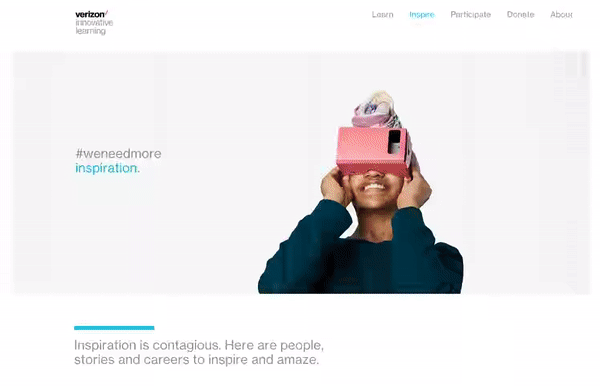 Since launching in February, Verizon's campaign has inspired and added fire to the ongoing conversation around how to encourage more students to pursue careers in STEM.
DCI Overview: 31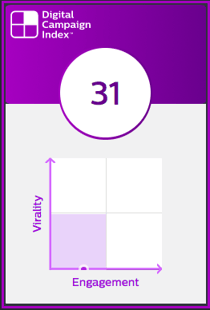 Verizon's DCI score is a combination of an Engagement Score (ES) of 62 and Virality Score (VS) of <25. The #weneedmore campaign made the core of all their activities their vibrant content hub, which they used as the primary destination in their social, advertising, and events.
Check out more details below on best practices you can incorporate into your digital campaigns to increase Engagement and Virality Scores.
Engagement Score (ES): 62
Don't make content an afterthought. Creating or curating content that is timely and interactive for your consumers is a worthwhile investment for increasing engagement with your campaign and brand.
Channel your inner curator. Having engaging content is the first step, creating a space where consumers can easily engage with and share your content is the next step. Verizon did an amazing job of creating a user-friendly and content-rich hub around their #weneedmore hashtag.
All roads lead to Rome. Your social and advertising activities should all lead to one central experience for your consumers to engage with. Today's marketers recognize the need to constantly build and nurture their audiences and many are doing so by driving audiences downstream to immersive digital campaigns via social and digital ads, emails, influencers, organic social posts, and broadcast spots.
Virality Score (VS): <25
Build your campaign around a cause. Verizon's #weneedmore campaign built on five years of effort and more than $160 million invested in building and sustaining programs across the country that provide "free technology, access and immersive, hands-on learning to students and teachers, particularly in underserved and minority communities." Connecting your campaign to your own brand's initiative or a larger cause is a good way to inspire social sharing.
The power of celebrity. There is a reason why many brands continue to tap celebrities and major social influencers, their fans are highly engaged and enthusiastic and they are looking for opportunities to share and engage with them…and by connection, your brand. Check out how Five Guys tapped into their enthusiastic fans here.
To learn more about Verizon's #weneedmore campaign and how to support bringing hands-on learning in science and technology to students across the country, visit weneedmore.com.