Campaign Goals: Generate buzz for America's Next Top Model's comeback
Template Used: UGC Gallery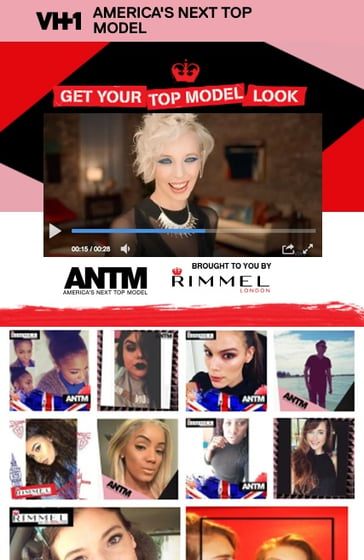 To celebrate the twenty-third season of America's Next Top Model, the most successful fashion show in history, VH1 asked its viewers to showcase their #ANTMLook, whether it be "chic, glam, edgy, or classic." After uploading and customizing their selfies, fans could sit back and watch them appear side by side with photos from some of the show's contestants. The end result is a fierce UGC campaign, and we've picked three strategies that every brand should consider borrowing:
Book the photographers: Every aspiring model needs a little inspiration, so before VH1 launched the campaign to the public, they pre-populated the UGC gallery using GIFs of the show's contestants. The images showcase a variety of moods and activities — having makeup applied, doing the robot dance, striking a pose — encouraging a range of submissions from users.
Don't walk the runway alone: In order to expand their reach, VH1 partnered with Rimmel, a makeup brand with a similar target demographic. The customized frames feature the Rimmel logo, and Rimmel products appear throughout the gallery (with click-throughs, of course).
Keep 'em coming back: To keep the conversation going throughout the entire season, VH1 also offered prizes for each week's best selfie, which was then displayed on the website along with the amateur model's Instagram handle. At the end of the season, the grand prize submission will win a gift bag of Rimmel products.