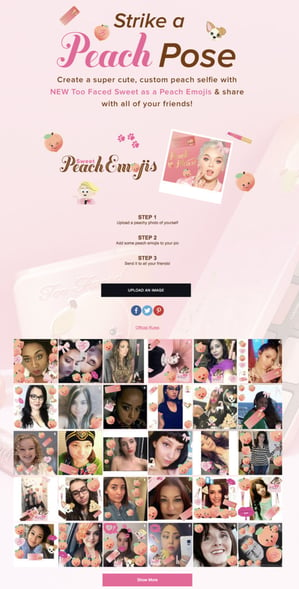 Campaign Goals: Generate buzz around the Sweet as a Peach product launch
Template Used: Photo Lab


To create excitement and engagement with their customers around the re-launch of their Sweet as a Peach products, Too Faced created a Wyng Photo Lab. This campaign asked consumers to create a Peach Selfie by uploading a photo and customize it using Sweet Peach Emojis. The brand also leveraged an email sign up form to build their email list and acquire new customers. This campaign captured tons of co-branded user generated content for the brand. Any brand can take advantage of the following best practices that Too Faced followed for this campaign:
Include a mix of branded and generic emojis: Too Faced created over 50 Sweet Peach emojis that users could use to customize their photos. The emojis include branded images such as the Too Faced logo and best selling products. They also included more generic emojis such as champagne, puppies and ribbons.


Don't hinder fan creativity just because a campaign ends: Once the campaign ended and the prize was given away, the brand decided to continuing running the campaign. They removed all the language referring to the sweepstakes portion of the campaign and added in an evergreen call to action so consumers could continue creating their Sweet Peach Selfies, providing the brand with amazing, re-usable UGC.


Promote, Promote, Promote: This product launch was a major priority for the brand, so they built a whole webpage on TooFaced.com to feature content about the new products, including how to wear tutorials, blogger videos, and product information. This page promoted the Photo Lab and drove users to the landing page where they could create their own Peach Selfie!