Campaign Goals: Engage consumers with a fun sweepstakes, acquire new email addresses and increase sales of Jack Link's Beef Jerky

Template Used: Photo & Video Contest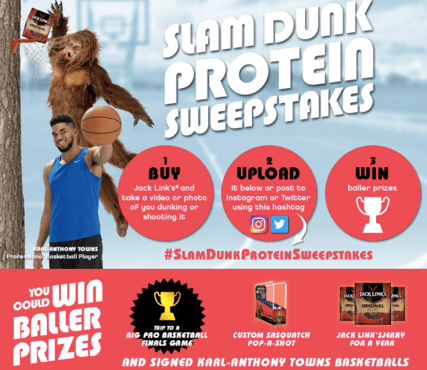 Sasquatch seems to be over getting messed with all the time and wants you to slam dunk protein with Jack Link's, the protein-packed snack packed with protein. Jack Link's is running a Video Sweepstakes Campaign that asks consumers to submit videos of themselves slamming down a piece of Jerky, either in a hoop, someone's mouth, or wherever there is a dunking opportunity. The campaign flow instructs consumers to buy a bag of Jack Link's Beef Jerky, create their best Slam Dunk video, share the video on social or directly upload and fill out a form with their name and email address. The best dunks are showcased beneath the sweepstakes in a submission gallery to drive further engagement among fans. Brands can make their own slam-dunk campaign by taking advantage of these tips:
Partner with a pro. Any time a campaign requires consumers to submit a photo or video, there is naturally a higher barrier to entry. However, partnering with a professional athlete or celebrity drives a ton of visibility to the campaign and creates more willingness to participate. Karl-Anthony Towns, pro basketball player on the Minnesota Timberwolves, gave Jack Link's that extra push to optimize their campaign.
Everyone wants a free lunch. People love being entered for a chance to win! Any campaign that has a giveaway or prize tied to it will immediately drive more engagement, participation and sharing among consumers.
Take advantage of an opportunity to cross-promote. Jack Link's has done a great job of integrating Sasquatch as part of their overall marketing and promotional strategy. Make sure you highlight other relevant content within a campaign, like Jack Link's did with their Sasquatch Emoji Pack.