Campaign Goals: Drive J&J sales and promote the "Storks" movie with receipt-redemption program for free toy
Template Used: Sign up


Receipt redemption used to be a long and complicated affair. After customers collected coupons, found an envelope, and bought a stamp, they had to wait weeks for the prize. Today, the process is as simple as posting a picture on Facebook. In a recent campaign, Johnson & Johnson partnered with Disney to promote its new film, "Storks." Consumers who upload two pictures, one of their receipt and one of four packs of J&J's promotional baby wipes, receive a stork stuffed animal. Shopper marketers, especially those who rely exclusively on UGC, should considering implementing the following in their next campaign: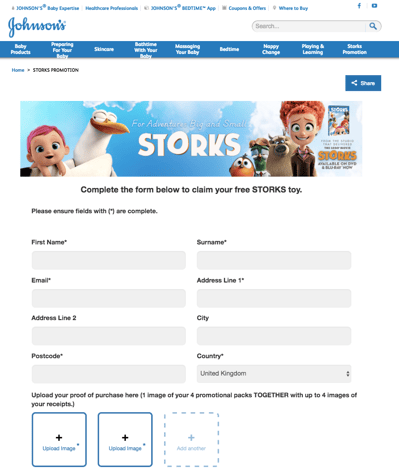 Sell a staple. By using baby wipes, a product that consumers buy anyway (and never have enough of), the brand increased the likelihood that parents would participate.
Offer a relevant prize. Children are notoriously fanatical about their favorite movies, and after enjoying "Storks," they'll be begging for the stuffed animal.


Create urgency. On the

landing page

for the campaign, J&J put a counter that updates in real time the number of Storks "left waiting to leave Stork Mountain."


Keep it simple. The data entry form, links to upload photos, and buttons consenting to J&J's terms and conditions, privacy policy, and newsletter opt-in all live on one page, making submission as seamless as possible.
Traditional shopper marketing techniques can be reimagined for the digital world, and Johnson & Johnson's campaign with Disney is a great example of a fun and easy prize redemption strategy.