Campaign Goals: Promote the Samsung Solve for Tomorrow contest designed to inspire students to pursue STEM
Template Used: Photo Lab & Hashtag Leaderboard


When you hear that Samsung is running a marketing campaign, you would probably assume it was for one of their new TVs, computers, or appliances. This campaign, however, is designed to promote Samsung's annual Solve for Tomorrow contest for students in grades six through 12 and their STEM projects to solve some of today's problems.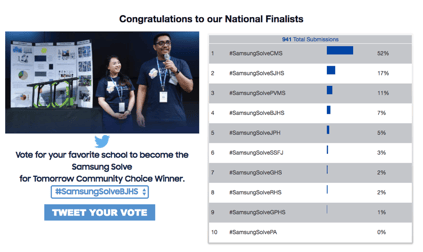 The page highlights videos that the National Finalists have put together to show off their creative ideas and inventions. Participants are asked to tweet corresponding hashtags to vote for their favorite project and even given the opportunity to decorate an image they have uploaded with stickers repping their school pride. Participants can then share these unique photos out to friends and get them to support their school by voting. You too, can demonstrate your brand's corporate-social responsibility with the following tips:
Use a #Hashtag and respond to engaged consumers. Any time a campaign requires consumers to post with a hashtag, it extends the reach of your message. Brands can see which consumers are participating with a particular #hashtag and respond accordingly. A simple "Thanks for posting!" goes a long way -- it makes consumers feel valued and creates a stronger connection with your brand.
Embrace Consumers' Competitive Spirits. Everyone loves a little friendly competition, especially when hometowns are involved. Samsung did a great job of creating a non-traditional campaign that allowed consumers to participate in a branded event, but effectively removed any pressure of product pushes, an all-too-common pitfall for brands looking to create engaging digital campaigns. Consumers were much more receptive to the idea of voting for a school versus a favorite product, demonstrated by the level of engagement with this campaign.
Make it interactive! Not only could consumers vote for their hometown, but they could also upload, personalize and share a photo via a Photo Lab component. The share functionality drew more eyes to the contest and encouraged others to come to the site and create their own masterpiece, once again extending the reach of this campaign.