Campaign Goals: Drive brand awareness and build a relationship between Zoetis and horse owners through a photo sweepstakes
Template Used: Photo Lab


Some brands easily lend themselves to collecting user-generated content, like the recent partnership between Rimmel and "America's Next Top Model." For other products, however, it takes a little more ingenuity to launch a successful user generated content (UGC) campaign, which is why we were blown away by the recent work from Zoetis, the largest global animal health company, and their marketing communications partner, Bader Rutter. As mentioned on the #IVaccinated Sweepstakes landing page, "Annual vaccination is key to help keeping your horse healthy and performing at his best." Using the Wyng Photo Lab, the team is producing a rich UGC gallery which also offers three lessons for brands with for their niche audience: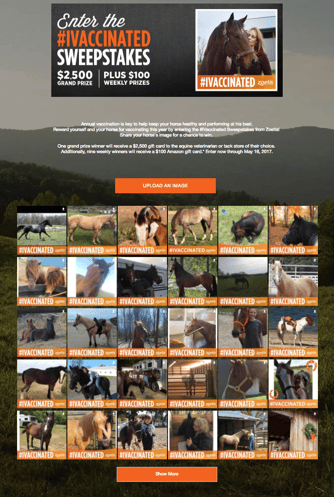 Focus on the result, not the process: Zoetis asked for pictures of happy horses who'd already been vaccinated. The brand struck the perfect tone for the campaign. And, of course, each picture proudly advertised, "#IVaccinated."


Know your audience: For an incentive, Zoetis is giving away $100 Amazon gift cards over the course of nine weeks — and one grand prize gift card of $2,500 to the equine veterinarian or tack store of the winner's choice. Offering a prize in line with both the requested content and the target audience further established Zoetis' credibility.


Count on users' passion: Horse people love their horses, which is obvious from the UGC gallery. Adorable foals jumping for joy, riders going for a difficult jump, owners proudly leading their horses — all are pictured, showcasing how fully the four-legged friends are incorporated into users' lives. To capitalize on this enthusiasm, the brand also offered relevant stickers, like horseshoes, cowboy hats and blue ribbons.
Not every product immediately generates an obvious UGC campaign. However, creative brands like Zoetis can capitalize on the passion and enthusiasm of their user base.