Concept: Empower Dove consumers to share their personal stories of how they are redefining how the world sees them on Instagram using the hashtag #InMyOwnSkin
Objective: Use Instagram to maximize campaign reach and brand awareness; boost social engagement and elevate the voices of Dove's consumers
Digital Campaign Index (DCI) Score: 251
Use Case: Custom Campaign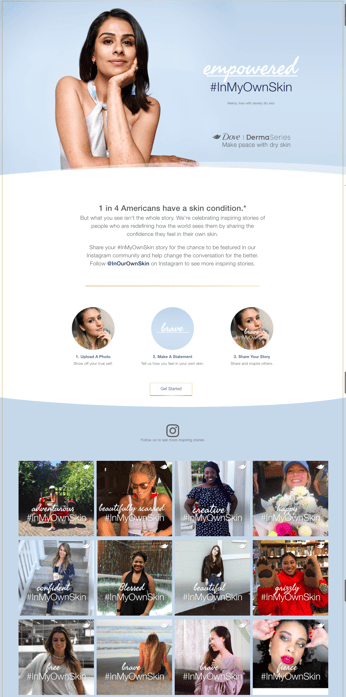 Real beauty means real women. That's been the driving mission and spirit behind Unilever-owned Dove for over 60 years. Dove has put in the work and heart to connect their brand image to their social and cultural ideals, and for more than a decade their "Real Beauty" campaigns have been driving conversations -- changing the way the beauty industry represents and talks about women. In 2018, Dove is far from giving up on this mission and has launched a new campaign to further its mission of spreading body positivity with the Dove #InMyOwnSkin Instagram campaign, which features stories from real women and men on how they are redefining how the world sees them by sharing the confidence they feel in their own skin.
Dove is asking their consumers to share their #InMyOwnSkin story for the chance to be featured on Dove's Instagram community and help change the conversation for the better. In addition to being featured on Dove's @InOurOwnSkin Instagram page, they created a microsite for the campaign that aggregates and displays submissions and enabled consumers to upload photos and their stories directly to the Dove #InMyOwnSkin microsite and photo gallery.
DCI Score Overview: 251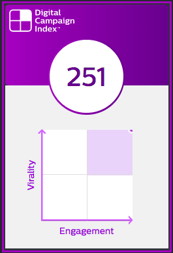 Dove's DCI score is a combination of an Engagement Score (ES) of 258 and Virality Score (VS) of 243, and is a great example of how brand affinity, a well-thought out campaign concept and strategic social media choices all work together towards campaign success.
Check out more details on their interactive marketing campaign below.
Engagement Score (ES): 258
Looking for engagement? Turn to Instagram. Dove made the great choice to make Instagram the center of their #InMyOwnSkin campaign and included a call-out for their consumers to post their stories and content to Instagram to be featured on Dove's @InOurOwnSkin Instagram community. With the introduction of Instagram Stories, the social platform has only continued to grow in popularity and has become a hot spot for sharing beauty, health, and personal stories. Successful use of Instagram is a great way for brands and agencies to boost social engagement and inspire authentic interaction amongst fans.
Elevate your consumers' voices to tell your brand's story. Marketers and communicators are constantly being told, "tell your brand's story", however, sometimes the best way to communicate your brand's mission and story is to let others tell that story for you. Dove has built a well-known reputation around elevating the voices of their consumers around their ideals and products and in the process have built a loyal and engaged following rooted in authenticity and mutual respect.
Virality Score (VS): 243
Leverage Instagram's popularity. Instagram's popularity has been on a steady increase since it first launched in 2010. With more than 500 million active users, Instagram is the second most popular social media network and is looking to snatch the crown. Brands looking to harness consumer excitement, drive social sharing, and maybe spark their own viral moment should leverage Instagram's popularity and high rate of sharing and engagement to give their campaign's a boost.
Choose your hashtag wisely. Having a hashtag linked to your campaign is the first step to encouraging sharing, and the second step is having a hashtag that your consumers will actually want to share. Dove's hashtag, #InMyOwnSkin, and their previous campaign hashtags are perfect examples of original hashtags that reflect the types of hashtags their fans are already using and would be likely to share even if they weren't tied to a brand campaign. Before choosing a hashtag for your campaign, make sure your hashtag is relevant and in-line with the types of hashtags your consumers are using.
Dove took full advantage of our professional services team to help bring their campaign concept to life, and they crafted an engaging and shareable campaign tailored to Dove's audience. Dove's approach can easily be applied to multiple different digital campaign concepts from product launches to public relations campaigns.
Learn more about the Wyng Professional Services here.