Concept: Create an engaging and shareable Thanksgiving extension of Harpoon's #LoveBeerLoveLife campaign
Objective: Encourage consumers to share and celebrate Thanksgiving by sharing a personalized eCard with friends and family
Digital Campaign Index (DCI) Score: 216
Use Case: eCard Creator
Thanksgiving brings to mind family, good food, helping others and investing in a pair of pants with an extra strong elastic waistband. Thanksgiving also kicks off the official start of the winter holiday season, which has the potential to increase sales, raise the visibility of your brand to new and existing customers, and build brand affinity ahead of the new year. While the holidays are prime shopping time for retailers, any brand can benefit from Thanksgiving and holiday marketing ideas.

Harpoon took full advantage of Thanksgiving and crafted a timely and easily shareable eCard campaign to get their consumers into the sharing spirit. Launching a campaign during Thanksgiving is a great way to get a head start on the holiday season and gather valuable consumer data and UGC early in the season, to create a solid foundation for the big push ahead of Christmas and New Year's Eve.
DCI Score Overview: 216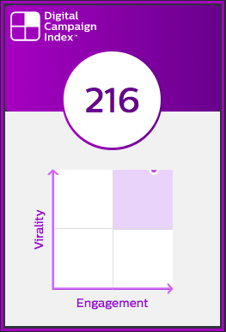 Harpoon took full advantage of their consumers gearing up for Thanksgiving and the holiday giving season and launched a campaign that tied perfectly into the core spirit of Thanksgiving and the winter holiday season – sharing. Their campaign's DCI score of 216, comprised of an Engagement Score (ES) of 170 and a Virality Score (VS) of 262, highlights that the fact that their timing and concept is a major hit with their consumers.
Check out more details below on best practices you can incorporate into your digital campaigns to optimize for success.
Engagement Score (ES): 170
Timing, timing, timing: Ensuring your campaign is timely is a must to guarantee that it won't be a total flop. Consumers are more likely to engage with a campaign that is "of the moment" since the call-to-action is more likely to already fit into their current activities and/or content they are sharing.
Appeal to your consumers' inner comedian. Whether we like to admit it or not, from time to time, we all laugh at our own jokes. Giving consumers the chance to showcase their "own" comedic talents is great way to encourage engagement.
Virality Score (VS): 262
Keep things witty and light. Harpoon created custom eCard frames that their consumers could personalize and then share with friends and family. In the spirit of eCards, they kept the copy light, fun and witty, making it hard for their consumers not to want to pass an eCard along to a fellow boozy friend.
Enable multiple options for sharing. Harpoon made a great choice by enabling their campaign participants the ability to share entries in one of multiple ways, including Pinterest, Twitter, Facebook and via email, facilitating the share process and driving earned reach. They also included a link copy option, so consumers could easily embed or share the link to their social networks or with friends.
To learn more about Harpoon's #LoveBeerLoveLife Thanksgiving eCard Creator and maybe share your own eCard with a friend that may be sleeping off their Thanksgiving hangover, visit the campaign here.
Download our 2017 Holiday Campaign Guide for more ideas about how you can make your marketing stand out this holiday season.