It is competitive out there, SUPER competitive. As a marketer, you are vying for your consumer's attention in crowded spaces online and in busy social newsfeeds. Competing with daily Kardashian rumors and other companies just like yours.
You've got to do something to stand out, and once you have someone's attention, you have to keep it. Here at Wyng we realized single-page campaigns just weren't cutting it, which is why we're excited to announce our newest feature available in the Wyng Platform: Multi-page campaigns!
The new feature was developed to help our partners easily launch dynamic, multi-page digital experiences that will keep their consumers hooked. Adding multi-page capabilities within the Platform will open a world of opportunity for marketers and developers, freeing up development time and speeding up time to launch timelines. No custom CSS or Javascript code required!
Find out more about the new multi-page feature below!
What is it?
We've added a new multi-page feature to the drag-and-drop builder within the Wyng Platform. This feature will enable marketers and developers to easily set up campaigns that have multiple pages.
How does it work?
Marketers and developers will be able to select the multi-page feature when setting up a new campaign in the drag-and-drop builder (pictured below). Once selected, pages can be added or deleted and when making updates you can easily toggle between pages and content that has already been added. Pages can be hidden to stage content to be revealed later in the campaign -- a winners gallery, for example.
Below are steps for setting up a multi-page campaign within the Drag-and-Drop builder
1. Start with any Use Case from the Create tab, or Design Your Own to create something fully custom.
2. Use the Page menu at the top of the Drag-and-Drop builder to add pages to your campaign, or switch between pages you are working on, at any time.
3. Each multi-page campaign will start with your primary page. This contains the primary components or content you want people to interact with when they visit your campaign (e.g., Photo Lab, Spotify Suggest a Song, Gallery)
4. Once you've set up your primary page, you add more pages to your campaign
5. For each new page, you can select and add secondary components (e.g., Forms, Images, HTML, Share bars)
6. As you add pages, you'll have the option to name each page and they will appear in a drop-down menu. This drop down is helpful for keeping track of which page is being worked on
7. As you add pages, you can use image components or embed code to link to each new page, so consumers can easily navigate between the pages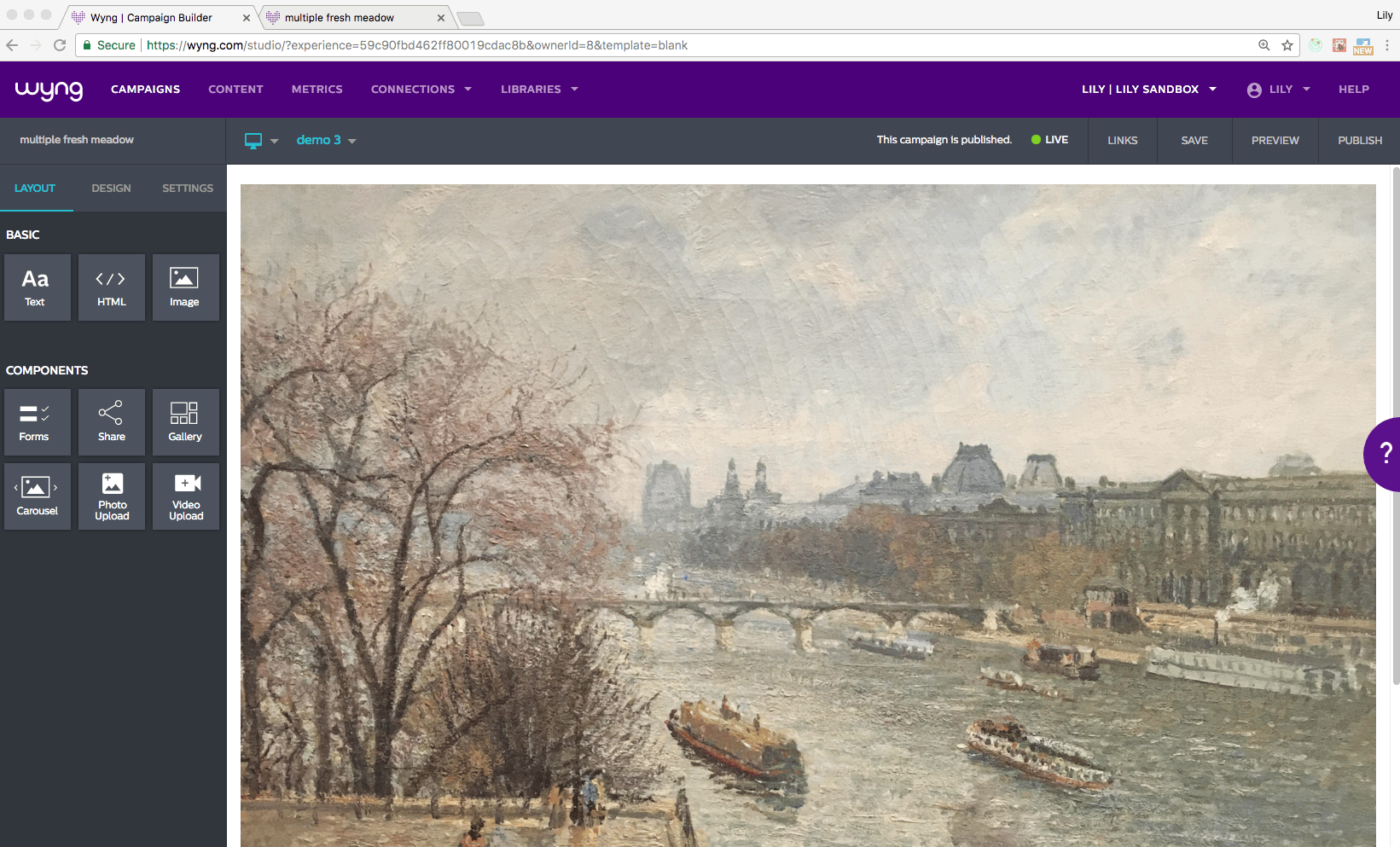 8. Each individual page will also have a unique URL, so you can easily deep link to specific pages in your promotional, social or other activities
9. Once you've added your campaign pages, you can then select a default page, which will be the first page consumers see when visiting your campaign
10. You can also hide and show pages at any time. This feature is particularly useful if you are running a phased campaign and only want certain pages to be visible at different points during your campaign.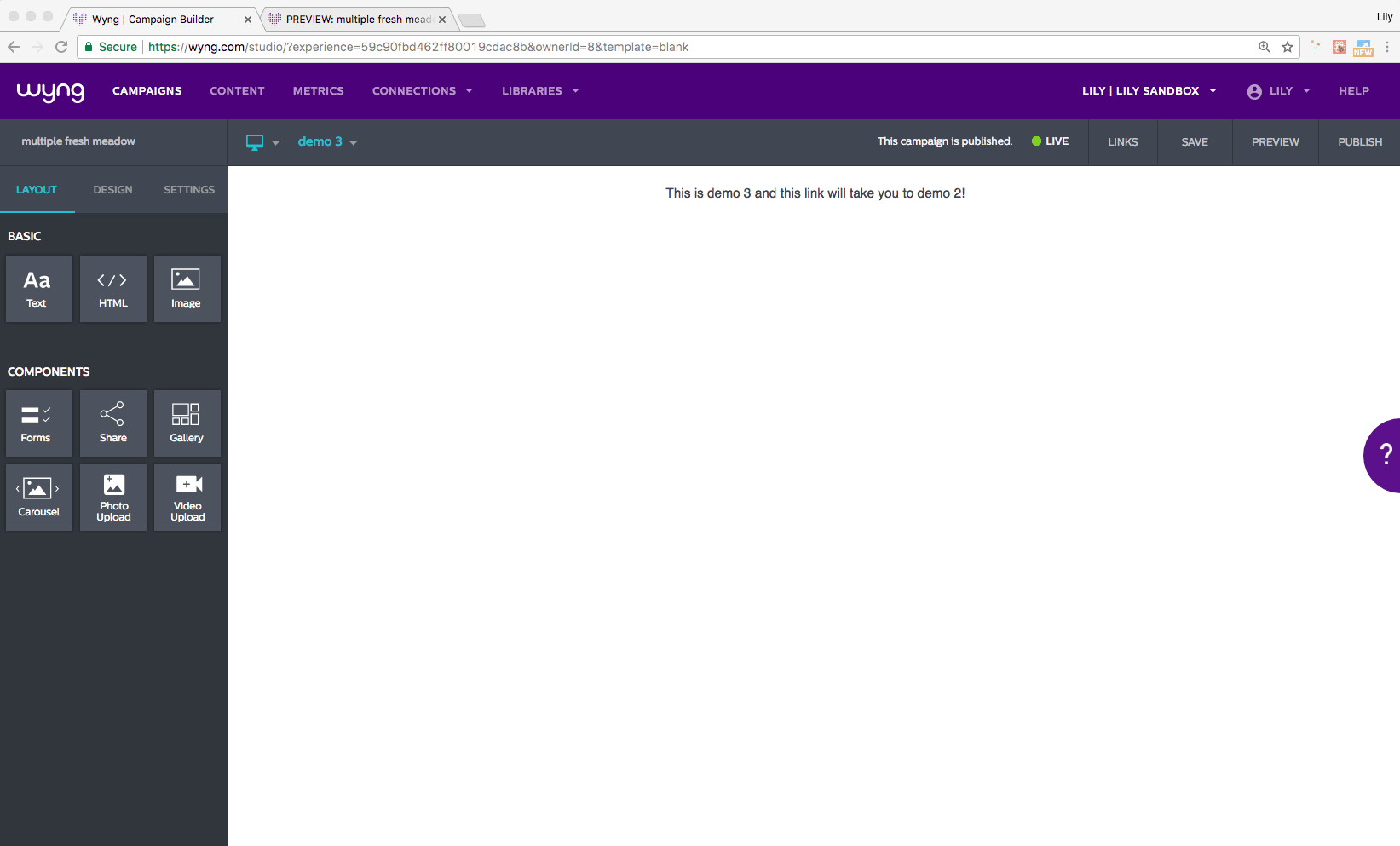 Enabling multi-page capabilities for campaigns also means that all your metrics will now be linked to the one campaign, resulting in one comprehensive Digital Campaign Index score.
Learn more about how you can get started on a multi-page campaign by contacting us below.
How can you use it?
The multi-page campaign features can be added to any campaign type and will give your team increased flexibility and capabilities to run phased campaigns, feature varying or rotating content, and easily shut down or turn on galleries and campaign components.
Including multiple pages is a great way to increase engagement with your campaign, by creating dynamic and interactive campaign sites that provide multiple pages and opportunities for new content to scroll through, click, and share.
Here are a few examples of campaigns you might want to incorporate this feature into:
Phased photo contest – check out an example from The Weather Channel here

Video competitions with voting

Pre and post-product launch campaigns

Multi-stage brand awareness campaigns

Evergreen campaigns

Multi-component campaigns – check out our Wyng #AgencyLife campaign as an example
About What's New at Wyng
As you may know, we release new use cases, components and features every two weeks (on Wednesday!) as part of our ongoing commitment to deliver an innovative, easy to use platform for our agency and brand partners.
We're going to highlight our top updates each release and talk about what it's for, how it works and how you can take advantage of it today.
Btw, we LOVE hearing product feedback from our customers! If you have any suggestions, please contact us today.