Your customers and prospects will intentionally and proactively share Zero-Party Data with your brand when you make it worth their while. High conversion rates depend on the value you provide to each customer, in exchange for the data you request.
Brands have numerous options for the value exchange — including delivering value in the form of personalized recommendations, access to exclusive content, tailored experiences, VIP treatment, 15 minutes of fame, loyalty points, and promotional rewards (like coupons and sweepstakes), among others.
According to McKinsey, 35% of online buyers will share personal information in return for coupons, and based on our own analysis, brands average 57% conversion rates when providing value in the form of a promotion-based reward.
To help brands achieve high conversion rates, Wyng is introducing Rewards -- a new value exchange feature in the Wyng microexperience builder that gives brands powerful, flexible ways to deliver value to customers in exchange for Zero-Party Data.
Using Rewards as part of a microexperience, marketers can easily configure and automate the delivery of several types of rewards:
Promo Codes and Promo Links: Also known as discount, coupon or voucher codes and links, promo codes and promo links are ideal for e-commerce brands.
Coupons: Digital, printable and email-to-self coupons are a proven technique for traditional brands that sell through retail partners.
Instant Win Promotions: Instant win sweepstakes and other instant win games of chance are effective for brands of all types.
Here's an example Unlock Promo Code use case template and live preview.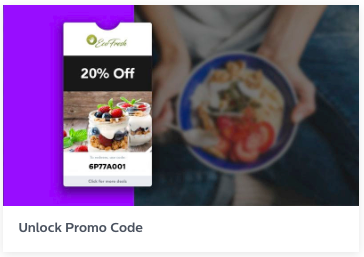 The Rewards feature supports:
Participation-gating -- including form gating, code gating (e.g. for UPC or on-pack proof of purchase), and ID gating (e.g. restrict to specific email addresses)
Multiple types of promo code rewards: unique "single-use" codes, non-unique "multi-use" codes, and "shareable" (or unique multi-use) codes
Rewards based on unlocking unique or private content, including digital or printable coupons from third-parties like Coupons.com, Valassis and RevTrax
Rewards based on entry in an instant win promotion, including instant win sweepstakes, with configurable participation limits and automated, randomized winner selection
Optional animated and gamified visualizations
Participation data exports
You can get started with the Rewards feature today by selecting and customizing the Unlock Promo Code template. And starting the week of October 14, the new Rewards component will be accessible in palette of the Wyng microexperience builder, so you can simply drag the Reward component into any microexperience as shown below: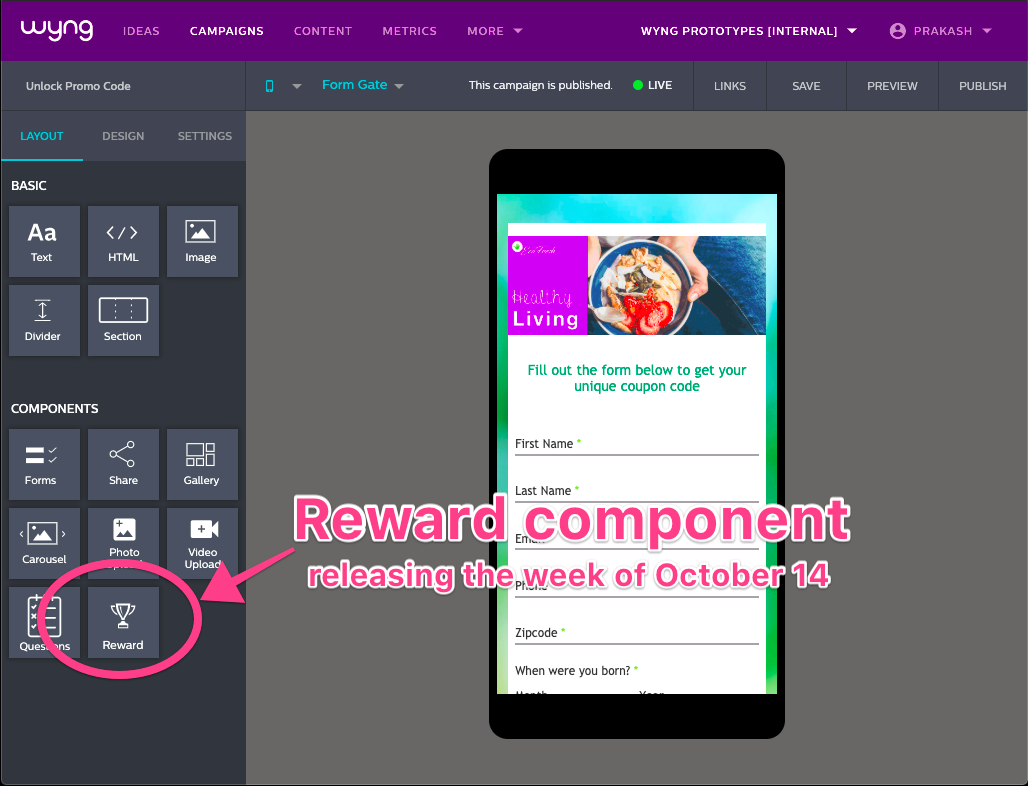 After dragging the component into your microexperience, you can configure its behavior to enable the type of reward you want to deliver to consumers: e.g. unique promo codes, or an instant win promotion: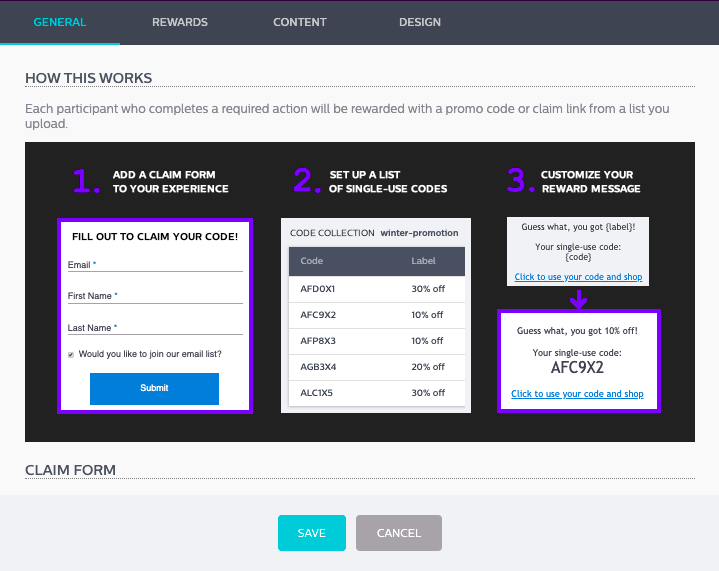 As with all microexperiences created using Wyng, the ones you create using the Rewards feature can be easily embedded on your brand.com website or mobile app, or delivered as a landing page hosted by Wyng.
To learn more or get started with Rewards: