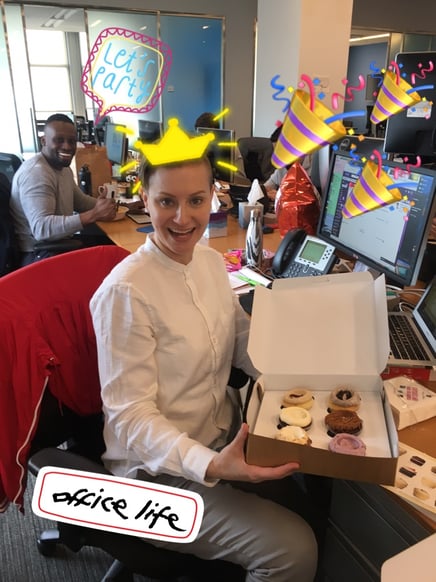 Name: Lindsay Bodnar
Role at Wyng: Manager of Customer Success
What's the best consumer trend or development in the market today? Why? The most fascinating consumer trend in the market today is the of rise of virtual experiences. From swapping faces to applying stickers, the ability to superimpose content on top of content has really emerged as a leading contributor to successful marketing campaigns, and it makes sense. There has never been a better conversion driver than word-of-mouth referral and through innovative virtual engagements we can make these experiences come to life and let the users advocate for products on the brand's behalf.
What is your favorite campaign to date and why? Lowe's started a digital initiative in 2013 called, "Lowe's Fix in Six." The campaign offers simple, everyday improvements that consumers will want to share with others. The subjects initially ranged from cleaning rusty knives to keeping squirrels away from the garden, but have expanded both seasonally and departmentally to provide timely tips that resonate with consumers from all walks of life.
The key element of this campaign is that sharing this branded content actually made people feel and appear smarter, savvier, and more in-the-know -- a feat not often achieved through digital campaigns. To this day, I continue to find value in browsing the #LowesFixinSix galleries on Twitter and Instagram.
Why did you join Wyng? Last year I shifted gears and left Sprinklr as a Senior Success Manager to join Wyng as a Manager of Customer Success. At Sprinklr, I partnered with enterprise-level brands to strategize and deliver global structure around social publishing, planning, and reporting. In this role I was able to identify a major opportunity not currently being addressed head-on by big and small brands alike: the ability to plan, deploy, and learn from thoughtful digital marketing campaigns across platforms and properties.
With a focus solely on campaigns, Wyng is able to elevate consumer influence by connecting beautiful marketing templates with key digital drivers such as direct response, e-commerce, and audience acquisition. In this capacity, Wyng keeps up with industry trends by listening to user-generated-content and displaying it in meaningful ways for both consumers and brand managers alike. With an ever-growing repository of styles and layouts, brands can quickly launch a variety of campaigns focused on driving participation - from sweepstakes and contests, to quizzes and voting polls, the possibilities are endless and the potential return enormous.
Joining Wyng has been a fun and rewarding experience thus far and I'm eager to see how the company will continue breaking down boundaries between what brands think is possible and what is actually possible given the digital make-up of today's biggest consumers.