Concept: Launch a sweepstakes to celebrate the LIFEWTR Series 5 Art Beyond Borders bottles

Objective: Engage consumers around the LIFEWTR brand; grow LIFEWTR's email database

Digital Campaign Index (DCI) Score: In Progress

Use Case: Sweepstakes

From now until May 12, 2018, LIFEWTR will be running their Amazon gift card sweepstakes. The sweepstakes is a partnership between LIFEWTR and Penn State Athletics, and is a celebration of LIFEWTR's 5th installment of their water bottle art series. The LIFEWTR bottle art series was launched to provide exposure for artists and creatives from the worlds of graphic design, fashion, fine arts, photography and more. The LIFEWTR labels will provide an expansive canvas for creatives to share their passions and make creativity and inspiration accessible to all. The sweepstakes is part of a larger campaign featuring the four artists selected for LIFEWTR's Series 5 bottles across college campuses.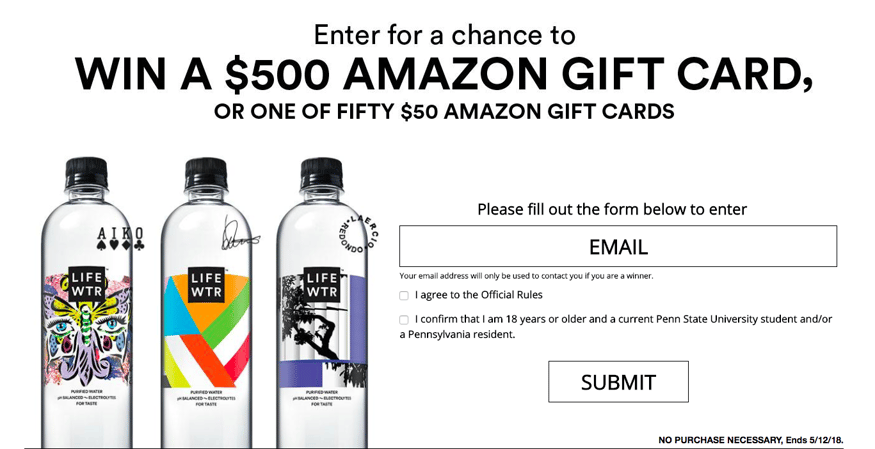 DCI Overview: In Progress
LIFEWTRs DCI score will be a combination of an Engagement Score (ES) and Virality Score (VS). We are sure their score will be reflective of their smart choices, as this campaign is a great example of a classic and well-designed sweepstakes geared towards email acquisitions.
Check out more details on some best practices any brand can incorporate into their next sweepstakes to optimize for engagement and virality.
Engagement Score (ES)
Let your fans choose their prize

. LIFEWTR isn't just giving away a few free bottles of water. Instead, they're offering prizes that give full control to their fans. By offering Amazon gift cards LIFEWTR is ensuring that they pique the interest of a broad audience by providing fans with a chance to purchase anything that Amazon carries. Who wouldn't sign up for that.

There's nothing wrong with the simple life

. The LIFEWTR team opted for a simple sign-up form with key fields included to collect entries. Sometimes keeping a campaign simple is the best way to increase and encourage engagement. A complicated entry process can lead to decreased engagement and incorrect submissions.

Take advantage of improved forms.

While a Form component might seem fairly straightforward, our development teams have worked to increase the sophistication of Wyng forms, while keeping our forms easy to use and implement. A form is often the backbone of a campaign, capturing valuable data for integration into a CRM or ESP, and having a well-designed form is essential for meeting specific configuration options in order to meet brand or legal requirements.
Virality Score (VS)
Embed social buttons on the site.

Sharing a campaign should be as easy as clicking a button. Including direct links to Facebook, Twitter, Pinterest, and email, is the easiest way to ensure that consumers spread the word about your campaign and brand.

Partner up.

LIFEWTR made a smart choice by including their corporate sponsor in the creative for their campaign, Penn State Athletics. Including a partner in your campaign can help boost organic reach and engagements by leveraging your partner's social network and promotional tactics.
As we've discussed before, sweepstakes tend to have the lowest levels of virality because the primary objective is to collect data, but with enough promotion and savvy use of new social sharing functions, a brand can boost their social.


To learn more about the ways you can leverage sweepstakes and the Digital Campaign Index in your next campaign, download our Q3 Digital Campaign Index Benchmark Report here.